If you're planning a bathroom remodel in Knoxville, TN, we've got good news!
Lakeview Home Improvements has been helping homeowners in Knoxville and East Tennessee get their bathroom remodeled with a quick and efficient process.
We put years of experience in project management to a more practical use that ensures you're getting your remodel that exceeds everyone's expectations.
Our goal: to over deliver on our promises and make you fall in love with your home again.
We'll Make Sure You'll Come Back For More
We bring the finest craftsmanship in your home, but we're not stopping there.
Working with Lakeview Home Improvements, you'll also:
Bring Back The Comfort In Your Bath
Your bathroom is where most of the days begin and end.
As long as your bathroom looks great and is fully functional, you're ensured an excellent start of a day, and a peaceful end.
But what happens when your bathroom is not as great as it used to be?
When it comes to a bathroom remodel in Knoxville, we're the go-to for many people in Tennessee. Lakeview Home Improvements has helped hundreds of homeowners get their bathrooms back to their former glory.
Get your bathroom remodeled with us and ensure you're starting your day in a bathroom that's truly yours. A pristine bathroom that's 100% functional and comfortable.
Many of your neighbors have already got theirs!
Homeowners Love Their Bathroom Remodel In Knoxville, TN
Nate and company did a great job working on a number of projects in our house, including converting our ugly bath/shower combo into a beautiful walk- in shower with full tile and marble. 
The difference is night and day, would hire him for our next project.
Nate and crew did a great job and I will definitely use him again. 
He did everything he said he would and frankly, it was perfect!
Get A Bathroom Worthy Of Remodeling Magazines
Check out how your bathroom remodel in Knoxville can turn out like!
You have the power to turn your space into a bathroom worthy of remodeling magazines. It's up to you if you want to.
Types Of Bathroom Upgrades
There are tons of upgrades you can get for your bathroom, and each of them will improve your bath in a different way.
Some will make your bathroom feel like a 5-star Ritz-Carlton hotel, others will make your space feel truly yours. Personalized to your needs and preferences.
Because we know choosing between so many options can be overwhelming, we'll guide you through every available option and help you make the right choice for your new bath.
Let's look at the most common bathroom upgrades.
The vanity is one of the most popular bathroom upgrades. It's an important feature that increases your bath's functionality, but it can also set the mood and style of your bath.
A vanity with slab doors and no hardware will make your bath look modern and minimalistic, while a hardwood vanity will make your bath feel more warm and cozy.
Double vanities are great for larger families or for a couple that would rather have their own sink. They provide increased storage space and can fill any unused space in your bathroom.
You can't get a new vanity and put the old countertops on them. First of all, they probably won't fit, and secondly, they won't match. Which is why many of our customers decide to get new countertops too.
There are many countertop options, but the best option is undoubtedly a quartz countertop. It's resistant, durable, easy to maintain, and more affordable than many other options.
Other bathroom countertops could be granite, marble, concrete, or other natural stones.
Many of our projects include a tub to shower conversion or replacing old jacuzzis that become a hazard for older homeowners.
Glass showers become ideal and accessible as we age. A porcelain or ceramic tile surround and a glass door will make a great shower for your new bath.
When it comes to tubs, it all depends on your preferences. The main reason some customers decide to keep theirs is because they love a hot bath. And who wouldn't? A tub filled with hot water is the perfect way to relax after a long day.
Older homes have hardwood floors in most rooms, including the bathroom. Needless to say, wood flooring in a room with so much humidity and water spills is never a great idea.
The best option for a bathroom is a tile flooring. Porcelain or ceramic tiles are affordable and have great qualities that improve the functionality of your bath.
Another, more expensive option, are marble slabs for flooring. Other natural stones are also viable options, but these usually cost more, especially to cover an entire floor.
Luxury vinyl tile and plank is also a good option for bathrooms.
Other bathroom upgrades include, but are not limited to:
The Easiest Bathroom Remodel In Knoxville, TN
We want to change the way homeowners look at remodeling jobs.
And to do that, we developed a quick and intuitive process that makes your journey with us a pleasure to go through.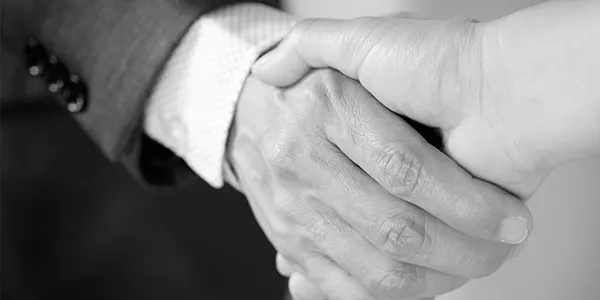 Get in touch with us, and we'll come up with the best solution for your bath!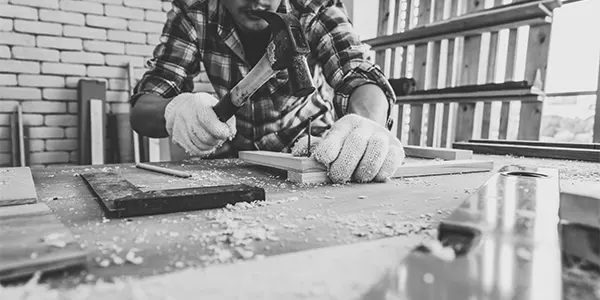 We start building and remodeling your bathroom. Allocate between one and two months.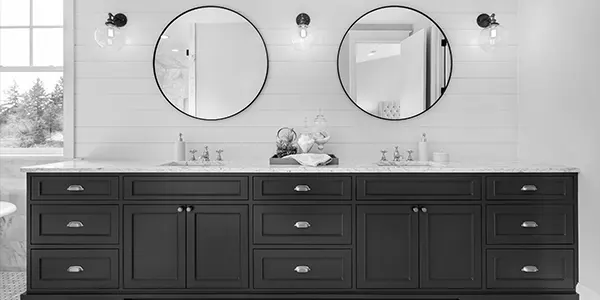 After our final walkthrough, we'll be out of your hair. Enjoy your new bathroom!
Bathroom Remodel In Tennessee: A Case Study
Check out this amazing master bathroom transformation!
Our customer wanted a new space that would leave everyone in awe. We started with a vision: Old World England.
We delivered an amazing end-product – the highest standard in the bathroom remodeling industry.
Frequently Asked Questions
A bathroom remodel timeline varies depending on the scope of work, your choice of materials, and what features you want in your new bath.
You'll get an accurate time frame for your project after our on-site consultation. We're transparent about it, and you'll be on top of things at every point in time.
The usual bathroom remodel timeline is between one and two months.
The scope of work, materials, features, and upgrades are several factors that will impact a bathroom remodel cost.
We quote a base bathroom remodel at around $36k. It includes updating plumbing and lighting fixtures, new, stock vanity and countertop, ceramic tile flooring, and a shower. This would be a smaller guest bathroom.
An average bathroom remodel is about $64k, and a high-end bathroom remodel is around $82k.
Yes! We work with licensed and insured trades people, experts in what they do. We know the building codes in Knoxville inside out, so you'll get the highest standard in the industry.
Our goal is to roll out the red carpet.
I'm Nate Burket, the owner of Lakeview Home Improvements, and I worked as a project manager for different companies. Since 2019, my aim is to give homeowners a better remodeling experience, a clearer process, and better communication with homeowners looking to transform their homes.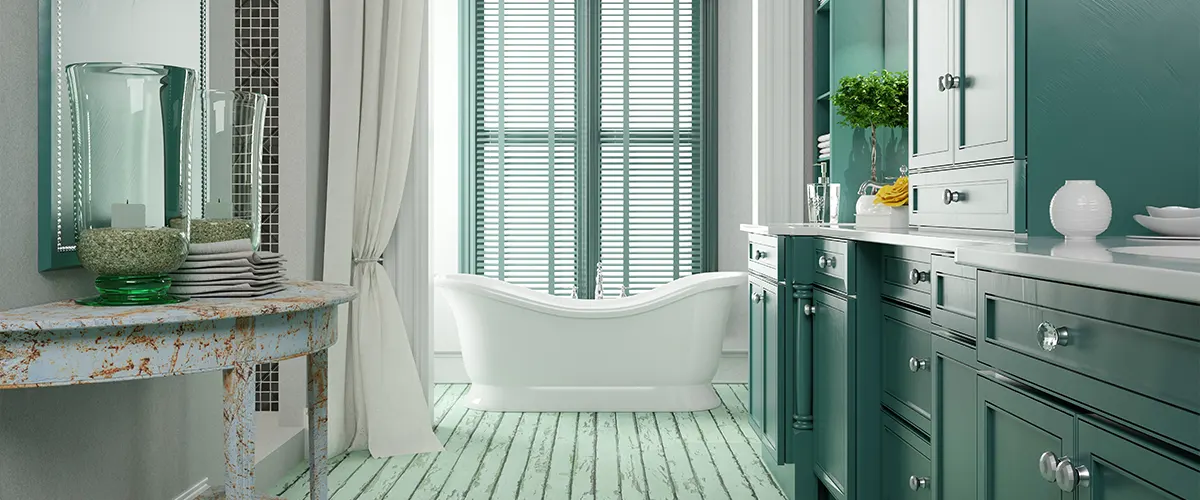 Get A Bathroom You Can Be Proud Of!
If you're looking for a bathroom remodel in Knoxville, TN, you're in the right place!
Your local professional bathroom remodelers from Lakeview Home Improvements are ready to get on your project and get you a bathroom you can be proud of. You'll benefit from a clear process and a project manager that's been doing this for years!
Working with us means your bathroom remodel in Knoxville will turn out exactly the way you envisioned it.
Get ready to receive:
Your New Bathroom Awaits You!
Request a free quote and let's discuss your upcoming project! Or talk directly with Nate, the owner of Lakeview Home Improvements, at (865) 801-4545 and see if we're the right fit.