Scroll down to discover options, process, and pricing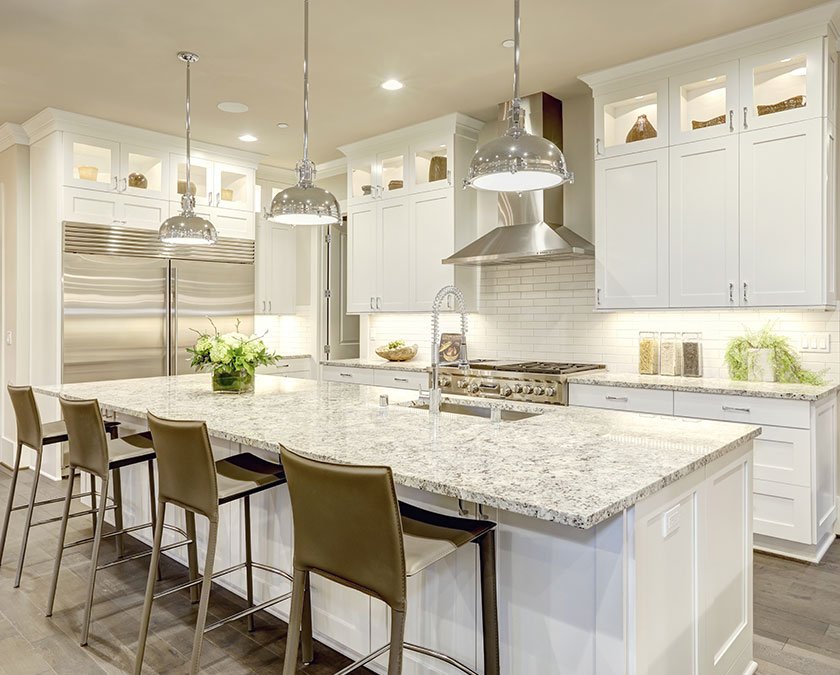 A Newfound Joy For Cooking
After a long day at work, all you want to do is spend time with your family and relax, but someone has to cook dinner. If cooking is not entirely pleasurable because your kitchen feels outdated or too small, maybe it's time to spruce things up.

With improved functionality and a new spacious layout, everything becomes easier and more enjoyable. The kids can sit around the kitchen island and do their homework as you quickly prepare something for them to eat, and doing the dishes is much more practical. Save precious time while enjoying every minute in your kitchen.
Some of the most exciting upgrades and features you can get for your kitchen include:​
A Welcoming Place You Can Be Proud Of
Whenever there's a holiday or an important event in your family, you can't wait to have an amazing time with your friends and loved ones. But then you look around at your kitchen and realize fitting everyone might be a problem.
Why not remodel your kitchen and change that?
Make your kitchen more inviting by opening it up, adding new colors, and updating everything to make it easier and more enjoyable to use. Add modern and trendy smart features and tell all your friends that you're hosting the next holiday party.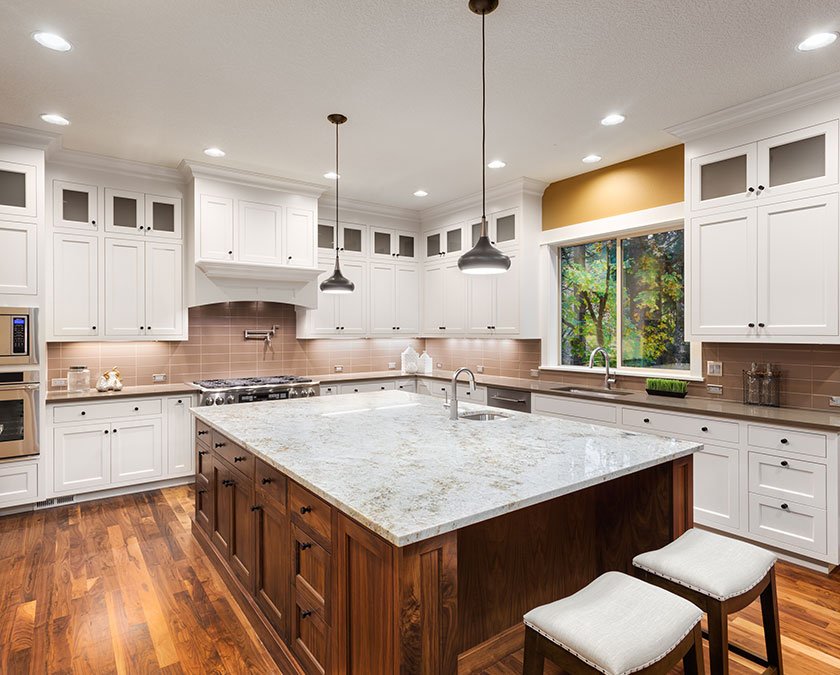 This Is How You Dream Kitchen Can Look
Take a look at our project gallery below. We've put together various styles and designs to serve you as inspiration in getting your home transformed. If you see anything that inspires you, mention it during our phone consultation and we'll give it our all to make it happen for you.
Kitchen Remodeling Prices
Design a sparkling kitchen to make cooking a delight and family gatherings an opportunity for reconnection.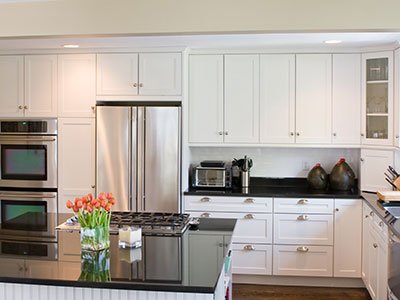 Includes refinishing cabinets, ceramic tile backsplash, updating plumbing fixtures, adding stock countertops, and standard updates to a smaller kitchen.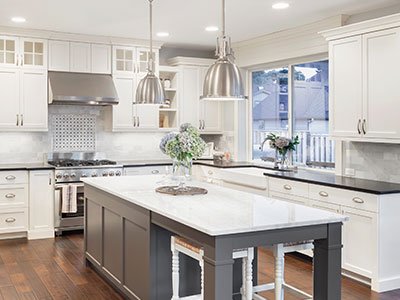 Includes new cabinets with modifications, refinishing or replacing hardwood floors, moving appliances around, adding new granite countertops, updating plumbing fixtures, and a ceramic tile backsplash for a larger kitchen.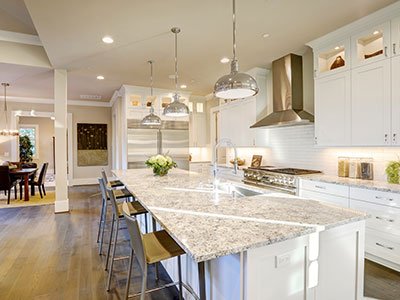 High-End Kitchen Remodel*
Includes new floors in a kitchen and adjacent spaces, custom cabinets, premium granite and quartz countertops, natural stone tile backsplash, updating plumbing fixtures, moving appliances around, and reconfiguring kitchen layout and expanding it when applicable.
*Prices are averages and may change depending on the size of your kitchen remodel and your choice of materials, finishes, and features. You'll receive an exact quote for your unique kitchen remodel after the in-house consultation.
A Pinch-Worthy Kitchen In 3 Easy Steps
Getting your kitchen to look and function to the highest of standards is easy when you work with a team that prioritizes you and your needs. You'll have the remodeling experience you deserve with full transparency and prime craftsmanship at your side.

Fill out our form and send us pictures of your current space, as well as what you have in mind for your new kitchen. We'll get back to you with a phone consultation and talk more about your project, then schedule your in-home consultation.

During the in-home consultation, we discuss the vision you have for your kitchen in-depth. We let you know what the next steps are, and talk about deadlines and expectations. Then we waste no time, prep the space, and get to work.

Your pinch-worthy kitchen is finally here and it's never looked better. Walk through the finished project with us and let us know if everything is to your liking. Then get your loved ones gathered at your place and enjoy your new kitchen to the fullest.
The Proof Of Happy Customers
When working with us, your needs and wants will always be top priority. It's your home, after all. Read how other homeowners like you experienced working with us.
The team with Lakeview completed a full renovation of a master bathroom in my house. It was quite extensive, involving moving a wall and moving plumbing. The quality of the work was excellent. Anything that I saw that I wasn't pleased with was corrected. But that rarely happened because of Nate's attention to detail. We ran into a couple of delays along the way, but it was worth the wait to have such a thorough and well-done renovation to show for it. I would highly recommend them.
Nate and company did a great job working on a number of projects in our house, including converting our ugly bath/shower combo into a beautiful walk- in shower with full tile and marble. The difference is night and day, would hire him for our next project.
Nate and crew did a great job and I will definitely use him again. He did everything he said he would and frankly, it was perfect!
Create Precious Memories One Meal At A Time In Your High-End Kitchen