Are you concerned about the bathroom remodeling cost in Knoxville, TN? Don't be!
Lakeview Home Improvements is here to help homeowners from East Tennessee spruce up their bathrooms quickly and efficiently. We have the skills and experience necessary for successful projects time after time.
We put years of experience in project management to a more practical use that ensures you're getting to remodel that exceeds everyone's expectations. 
Our goal: is to over-deliver on our promises and make you fall in love with your home again.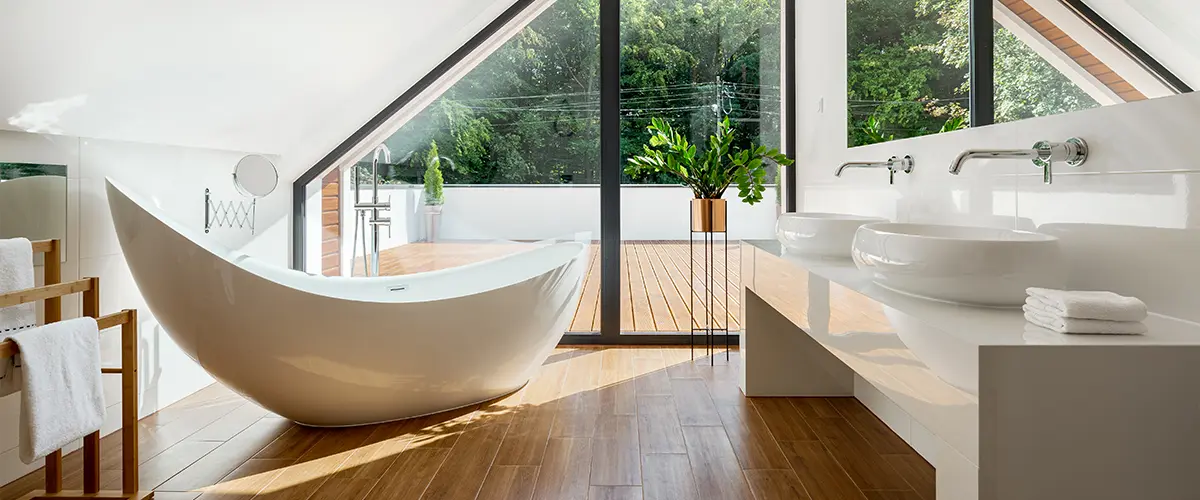 The Typical Bathroom Renovation Cost In Knoxville, TN
Forming an estimate for renovating your bathroom involves taking a variety of individualized factors into account, such as the size and material involved. All other details being similar, remodeling a larger space will undoubtedly cost more than doing so to a smaller one.
Here is further information to give you an idea of what typical expenses are in Knoxville for different-sized bathrooms.
| Size | Square Footage | Average Cost |
| --- | --- | --- |
| Small | Less than 70 square feet | $20,500 - $35,000 |
| Medium | Between 100 and 150 square feet | $35,500 - $60,000 |
| Large | Over 200 square feet | $70,000 - $100,000+ |
After an in-depth consultation at your home, we'll offer you precise pricing and time frame quotes. Check out our complete bathroom remodeling service in Knoxville, TN, and enjoy working with the most sought-after professional in the area!
Labor In A Bathroom Renovation Cost In Knoxville
Though it may seem like a huge project, bathroom remodeling does not have to be stressful. Here are all the professionals specializing in everything you'll need to see your bathroom remodel through.
An architect is a professional who ensures that new spaces are safe and structurally sound. You will need the architect's drawings and plans to apply for a building permit. 
Architects typically charge between $65 and $400 per hour or a one-time fee of 10% to 20 percent of the total cost of your project.
A professional bathroom designer is necessary to have a beautiful, functioning restroom. 
Designers charge 10-20% of the overall renovation cost; one-time consultation rates range from $300 to $1,500, depending on their skill level.
Especially in bathrooms, having a professional plumber is crucial.
Plumbers charge between $70 and $150 per hour for their labor and any necessary materials fees.
You need to update the electrical wiring if you're relocating your appliances. The safety of yourself and your family is paramount, and the electrical installation must be secure. 
An electrician charges between $80 and $150 per hour plus supplies.
Get All In One With Lakeview Remodels
At Lakeview Remodels, we take immense pride in making life simpler and more comfortable for all of our customers.
Our team of experienced contractors can help make your bathroom renovation simple and straightforward. With access to a trusted network of qualified electricians, carpenters, architects, designers, and plumbers, you can leave the heavy lifting to us!
Our commitment is unmatched by anyone else—we guarantee it! Look no further than us when searching for quality workmanship on your project!
Bath Renovation Cost In Knoxville, TN, By Upgrades
From luxurious fixtures that give off a 5-star Ritz-Carlton feel to personalized touches that make the space your own – there's something out there for every single one of us. 
Because we know choosing between so many options can be overwhelming, we'll guide you through every available option!
A bathroom with a toilet vanity that suits your design may make the space more inviting and appealing.
Opting for a double vanity could be beneficial if you lack storage in your primary bathroom. Double vanities cost between $500 and all the way up to $5,000, depending on the size and features.
Choosing one with decorative elements would be ideal if you want to create a focal point in a powder room or guest bath. You'll get excellent bang for your buck by picking semi-custom, according to KCMA. These are also less expensive, starting at around $300.
Countertops are a must-have in any space, adding aesthetic beauty and practicality. Fortunately, modern countertop materials make it easy to maintain these surfaces without too much fuss or effort.
| Material | Typical Cost |
| --- | --- |
| Laminate | $30 - $72 |
| Quartz | $72 - $240 |
| Hardwood | $54 - $300 |
| Marble | $102 - $360 |
| Granite | $72 - $300 |
| Stainless Steel | $108 - $215 |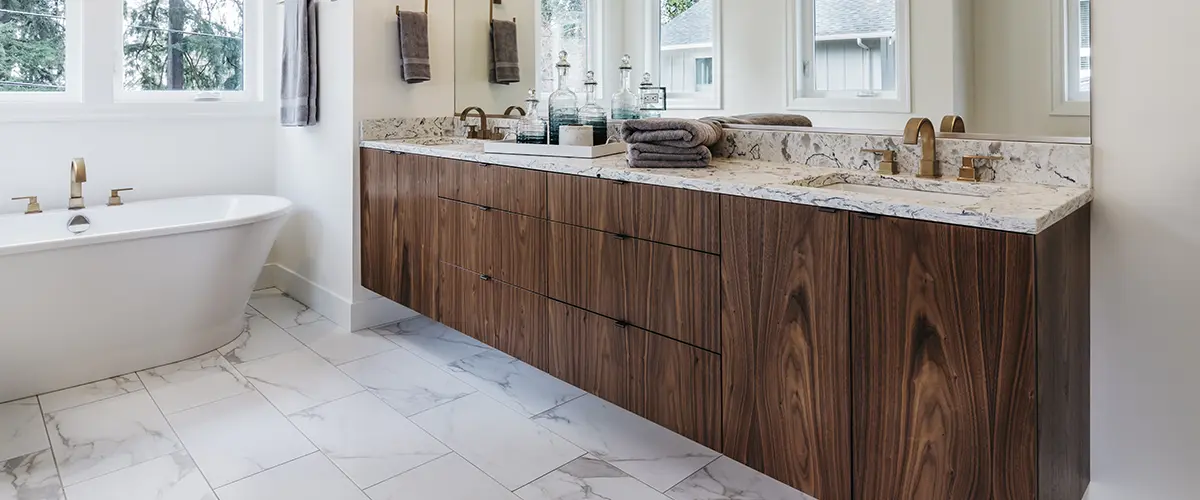 The bathroom floor needs a little more consideration than, let's say, a kitchen.
Hardwood floors are a no-go in baths, and so is any other material that's susceptible to water damage.
Porcelain tiles provide an inexpensive alternative at around $10-30 per square foot compared to other types of laminate flooring.
Luxury vinyl plank and tile are highly-efficient in bathrooms as well, costing between $4 and $8 per square foot, compared to regular vinyl, which can be found as cheap as $1 per square foot.
Epoxy is yet another flooring material that has started gaining ground. However, you'll need a professional to properly install this floor and give it a beautiful coating worthy of your bathroom space.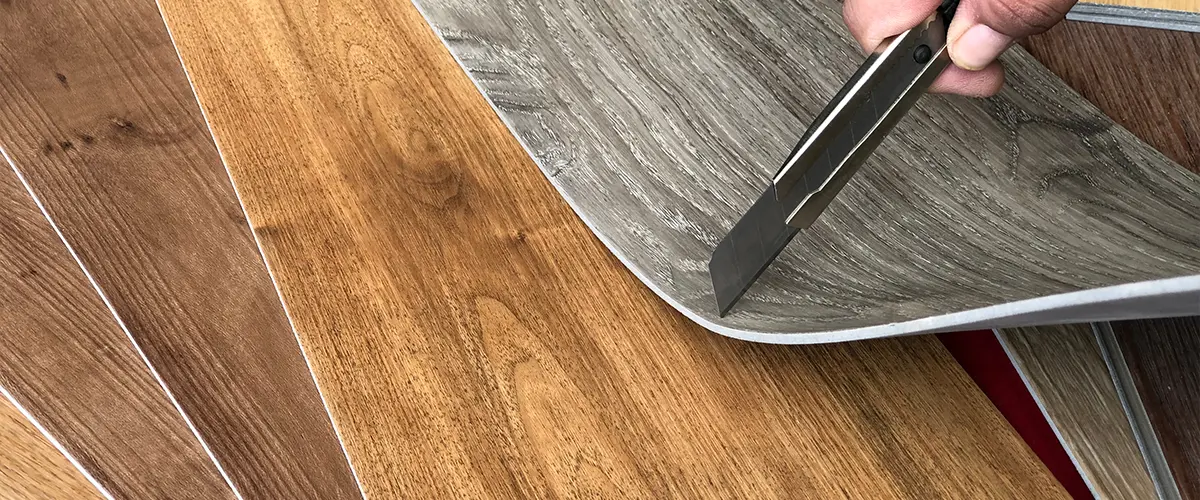 You can significantly elevate your quality of life when you replace an old tub with a walk-in shower, or if that's not feasible, by installing a freestanding tub in the Knoxville, TN, area.
Though it may be more costly initially to do so during bathroom renovations, this investment will prove worthwhile down the line. You can even install glass shower doors for added visual appeal!
Renovating a glass walk-in shower usually costs anywhere between $1,000 and $5,000 – depending on the size of the shower as well as which materials are chosen.
Also, when selecting a tub, porcelain is seen as superior quality; however, these can range up to $2k or higher in some cases.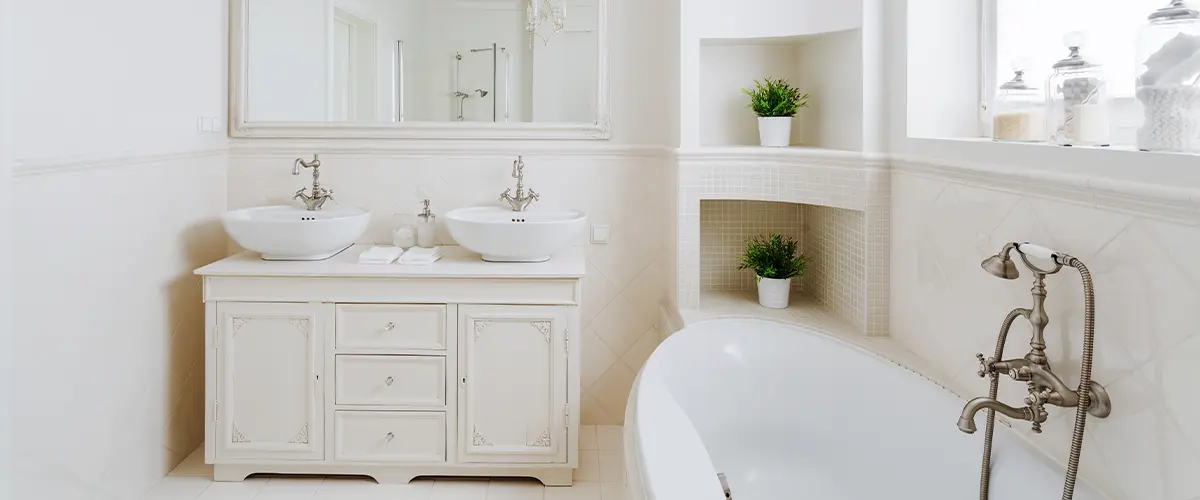 Other Features And Upgrades
Besides what we mentioned, the bathroom essentials will also add to the final quote.
Get A Bathroom Like The Ones You See In Movies
Check out some of your neighbors' bathrooms! Go through our gallery and find inspiration for your upcoming bathroom remodeling project in Knoxville!
Experience A Pleasant And Satisfying Bathroom Remodel!
We aim to alleviate the tension and worry associated with any bathroom remodeling project in order for you to have a pleasant and stress-free experience. We've optimized our process for that, so you can enjoy a satisfying bathroom remodel from start to finish!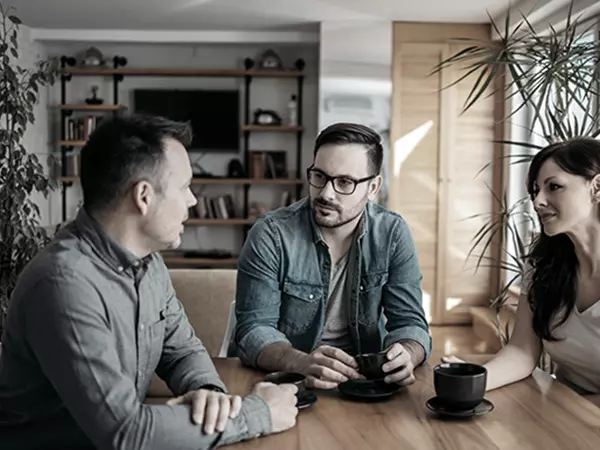 Get in touch and let's discuss your bathroom remodeling project!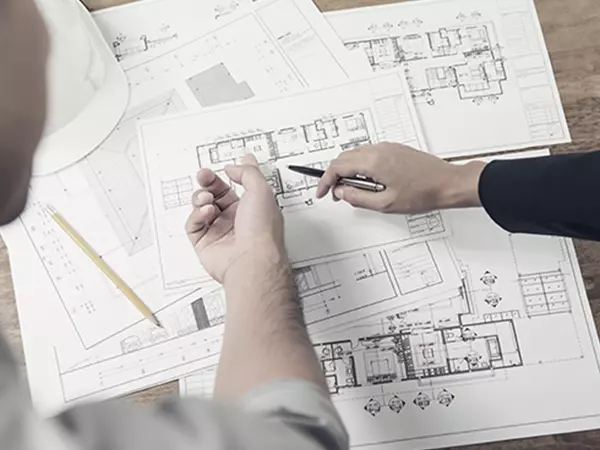 Watch us transform your bath and be in full control of everything!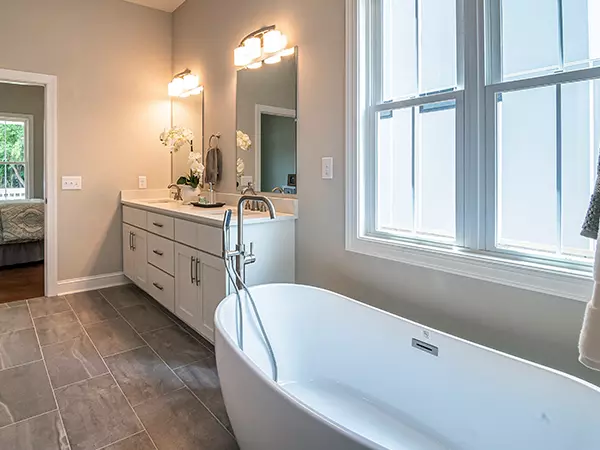 Your new bathroom is ready! Enjoy it!
Budgeting For Your Bathroom Renovation Cost In Knoxville, TN
Although home renovation shows make it look easy, they often fail to show what's involved. Oftentimes, they'll feature a bathroom remodel that is way out of the average person's budget.
Here are some helpful tips on staying within your budget while renovating!
If you're not one to pamper yourself, your bathroom renovation should be more affordable. But if having a comforting oasis is essential for your well-being and relaxation, focus on invitingly designing the room. Working with a designer will help ensure that both style and design are fully considered when planning renovations.
Although it may not appear to be the case initially, preparing for unforeseen events is essential to update your bathroom.
When renovating, mold, mildew, and plumbing trouble is all too common. To be on the safe side and account for any unexpected costs along the way, it's advised to allocate an additional 20% of your budget – better to be prepared than wish you had been!
Furthermore, if everything goes according to plan, this additional money sits in your pocket.
Oftentimes, people are unaware that renovating a bathroom is usually less costly than remodeling other areas of the house, such as bedrooms or kitchens. To ensure you have a smooth and pleasant experience, knowing all the expenses ahead of time is paramount to avoiding any shocks down the line.
Make sure to ask plenty of questions and be fully prepared for what's to come during your renovation.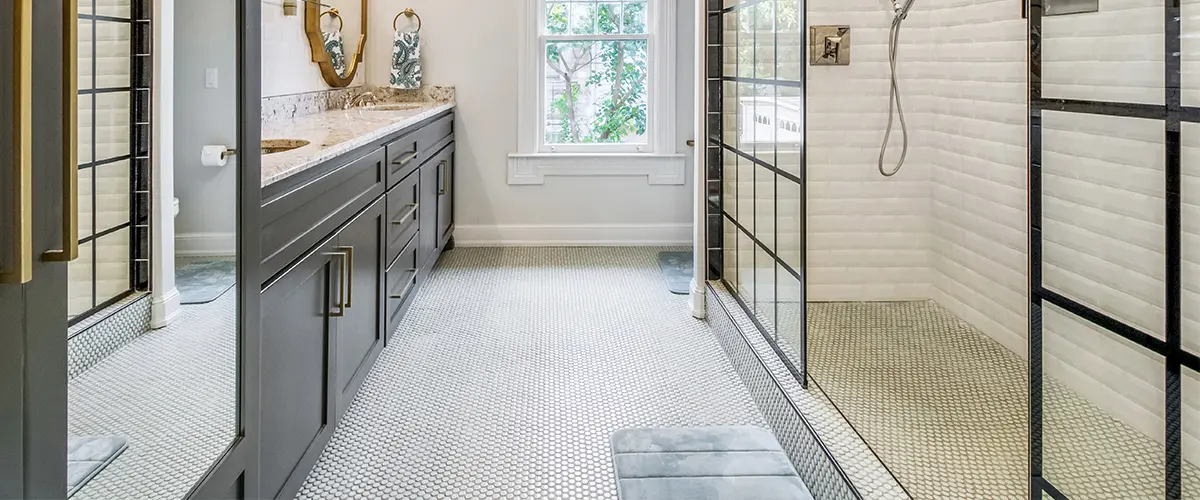 Get Pricing Transparency For Your Bathroom Remodeling Cost In Knoxville, TN!
Regardless of the size of your bathroom, we guarantee that our expert contractors will help you create and realize your perfect dream space.
Transform your bathroom with confidence – our remodeling services guarantee you'll have a beautiful, new space without going over budget. We deliver high-quality projects for an average cost of $30,000, depending on the materials selected.
Our team will work hard to ensure your renovation is completed within its timeframe and price range!
Unlike most bathroom remodeling companies, we tend to over-deliver, so expect the following:
Get Started On Your Long-Overdue Upgrade