Homeowners in Knoxville, Tennessee, seeking a kitchen remodel should choose Lakeview Home Remodels! We guarantee that your project will be perfect, and you'll have the custom-made kitchen of your dreams. Our skilled artisans can turn any space into an area of beauty and comfort – let us lend our expertise to ensure you get precisely what you want!
At our company, we are immensely proud of our kitchen remodeling services. We firmly believe that a gorgeous and well-crafted kitchen is priceless, and our mission is to ensure everyone who works with us enjoys the process as much they adore their completed home project. Before you begin your journey into revamping your cooking space though, it's essential to figure out how much money needs to be allotted for the endeavor – read on for more information!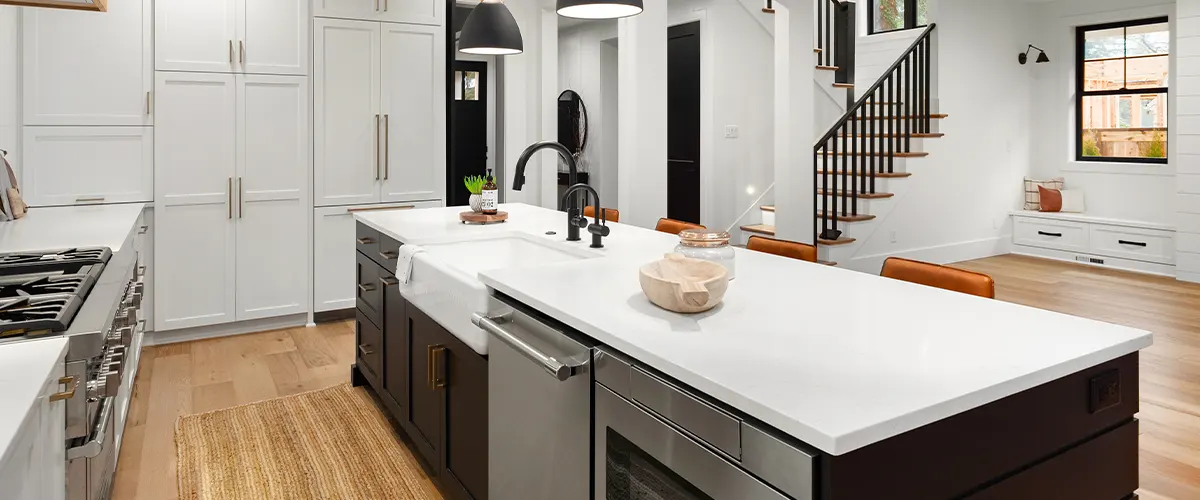 The Typical Kitchen Renovation Cost In Knoxville
When it comes to upgrading your kitchen in Knoxville, the cost is never set in stone. It all depends on the size and magnitude of work you require as well as any additional requests. However, one thing to bear in mind – bigger kitchens may incur higher prices when renovating!
Now let's examine average kitchen renovation cost estimates based on different sizes of kitchens.
| Size | Square Footage | Average Cost |
| --- | --- | --- |
| Small | Less than 70 square feet | $20,500 - $40,000 |
| Medium | Between 100 and 150 square feet | $40,500 - $70,000 |
| Large | Over 200 square feet | $70,000 - $150,000+ |
After an in-depth consultation at your home, we'll offer you precise pricing and time frame quotes. Check out our complete kitchen remodeling service in Knoxville, TN, and enjoy working with the most sought-after professional in the area!
Labor In A Kitchen Renovation Cost In Knoxville
Crafting your dream kitchen isn't just about appearances but also function. To ensure the design stays on-budget, you must consider plumbing and electrical work as well as installation and carpentry alongside aesthetics. Before beginning construction, it's wise to ask multiple professionals for cost estimates so that any problems can be avoided along the way.
If you're pondering modifications to your residence by demolishing or adding walls, a licensed architect is essential. Not only do they need to design and draw plans needed in applying for a building permit, but they also guarantee safety during construction or renovations. In terms of fees, architects usually charge hourly rates ranging from $65-$250. However, some may offer a one-time fee of up to 10%-20% of the entire project cost instead.
A kitchen designer can bring both style and functionality to your cooking space. They'll create a layout that looks stunning while remaining practical, much like an architect would do. Generally, they charge 10-20% of the total cost for renovation projects; however, their consultation fee may range from $300 – $1,500+, depending on how experienced they are in this area. By investing in quality design services now, you'll ensure your money is well spent!
Kitchen water issues can be tricky, and a carpenter's lack of knowledge in this area is understandable. Handymen may have the ability to fix it, but plumbers are able to go further and address the root cause of your issue with more permanence. However, bear in mind that you will likely face hourly fees ranging from $70-$150 as well as material expenses, if you decide on a professional plumber.
When relocating your appliances, it is significant to ensure that the electrical wiring process is secure and up-to-code. For this reason, it's essential to bring in a certified electrician who can charge you between $80 and $150 per hour for their services, plus material costs. By doing so, you'll be able to guarantee peace of mind knowing that both yourself and your family members are safe!
Materials And Upgrades For Your Kitchen Remodel
A home remodeling project is common in quite a large project. And with any kitchen, many things shift when you want to change its look and feel. During our on-site visit, we can show you some of the finest alternatives for your area. For now, let's look at what are presently the most popular upgrades people choose.
Homeowners search tirelessly to obtain the highest return on their investments. Semi-custom cabinets are a reliable and secure means of guaranteeing prosperity. Although paint-grade cupboards provide more economical options, they do not supply comparable quality or durability that hardwood ones can boast.
Custom-made new cabinets provide a distinctive flair to your house. They're explicitly produced for you, so you can pick whatever size, shape, and design you like and see how efficient they are at turning kitchens.
Deciding to remodel your kitchen can be daunting, and among the essential choices you'll make is whether or not to keep your appliances. Of course, if they're still working well, there's no problem keeping them; however, some opt for better models if money permits. It really depends on how much cooking you do—if it isn't too frequent, then mid-range appliance packages are a great option until further usage requires an upgrade.
Many individuals choose to invest in higher-end appliances when they remodel their kitchen, even though it can be more costly. We know of people who spend nearly $18000 solely on new appliances! The positive aspect of these opulent models is that the cooking process gets faster and easier. Ultimately, deciding which type of appliance to get for your refreshed kitchen all comes down to individual needs and preferences.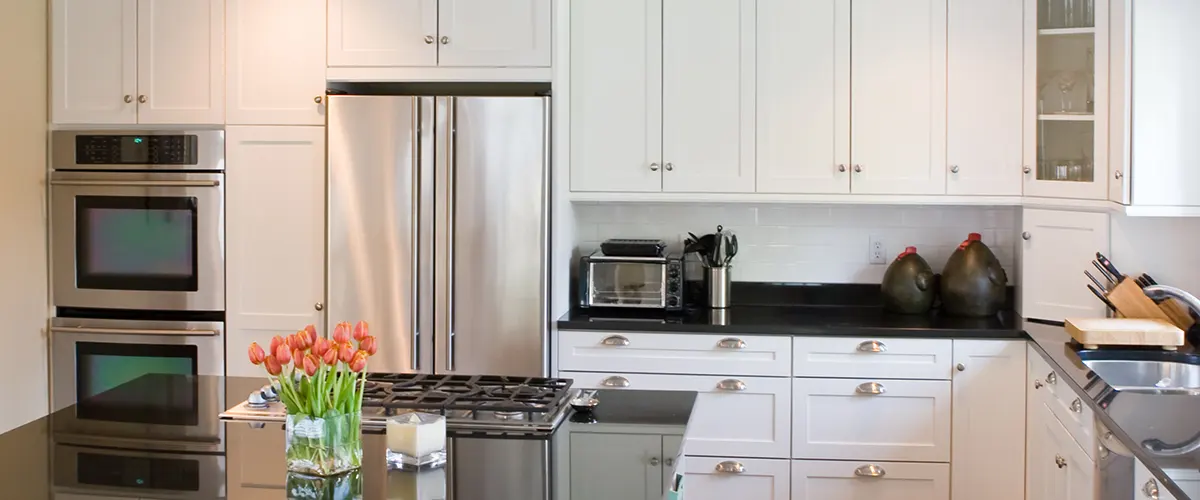 Quartz is an ideal option if you're looking for a reliable, low-maintenance countertop material for your kitchen. It boasts superior strength and durability, but its sleek surface also hides chips and cracks from sight – perfect if you have an active family! With quartz in the kitchen, expect a cohesive environment that won't require much effort to maintain. Conversely, marble has a look that no other countertop material can compare to. Nevertheless, it is more delicate than quartz and thus less cost-effective in the long run.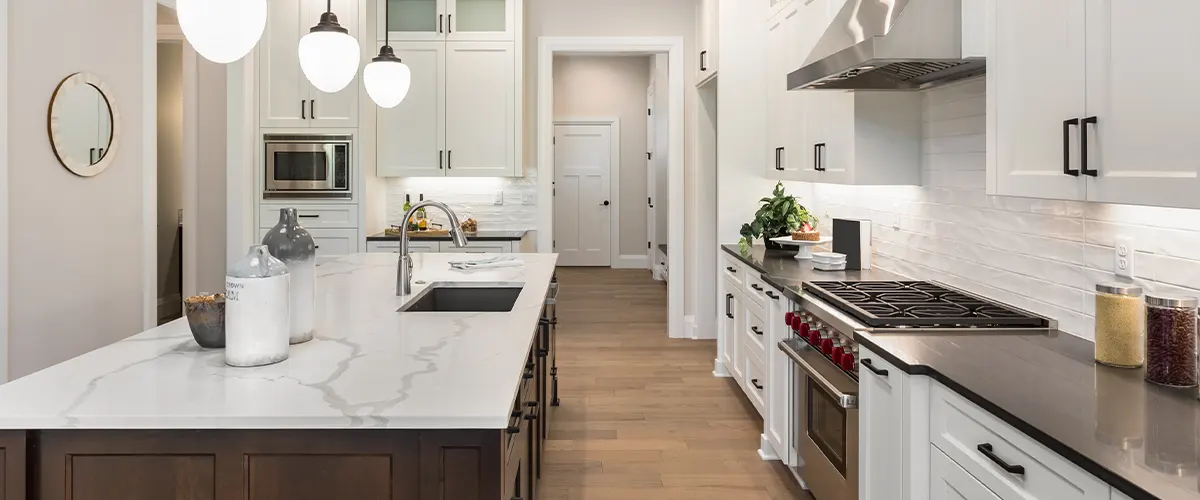 When structuralizing your abode, the kitchen is one of the most important rooms. Therefore, homeowners should take their time in picking an ideal flooring option. Two timeless choices for kitchen floors are hardwood and tile–both possessing individual characteristics that make them exquisite to look at. Hardwood not only looks stylish, but it's also straightforward to care for with regular upkeep. Plus its inherent warmth offers added comfortability for you and your family!
If you're looking for a tile that comes in an array of colors and styles to suit anyone's taste, look no further. Vinyl flooring is also easy to install and maintain and can even imitate other more expensive types of floors like natural stone or wood.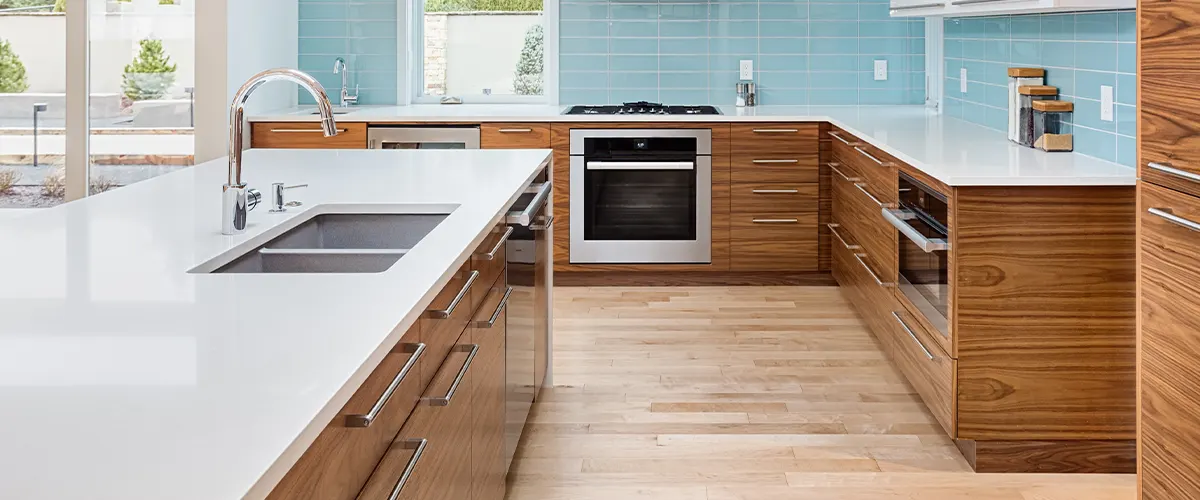 Selecting the proper sink for your kitchen renovation is a vitally important step. Here are some of the most common styles you'll find in homes today:
Drop-in sinks are a highly sought after option for kitchens due to their diversity. They can be crafted from various materials and come in all different colors, blending seamlessly with your counters. The downside is that the edges of this style tend to trap dirt and grime more easily than other types of sink, making it hard to maintain its cleanliness.
Undermount sinks have a clean, seamless appearance since they're set below the countertop. There's no lip or edge for dirt and gunk to collect, so they're extremely simple to keep clean! They take up less room on your counter than other types of sinks, making them ideal for tiny kitchens. Undermount sinks might require professional installation and are more expensive than traditional choices.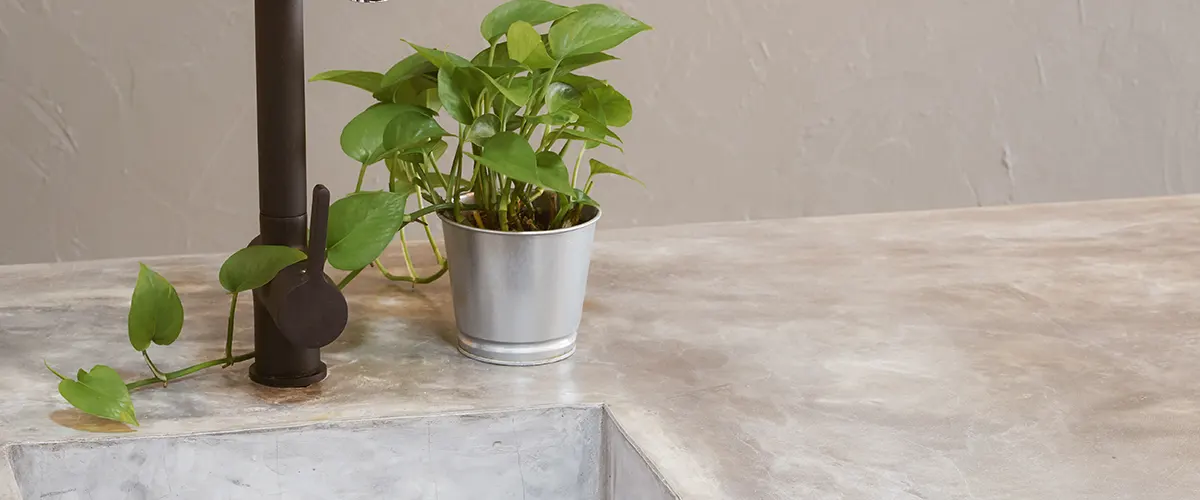 Islands are a coveted addition to any kitchen for several reasons. They bring extra prep space, storage, and an inviting eating area. Moreover, they add visual interest to open-concept kitchens. Don't forget about the outlets – you'll need at least two on the island if you plan to use appliances such as blenders or toasters!
Are you considering a kitchen makeover by centering the sink below a window? This stunning design may be expensive if your plumbing requires significant readjustment. Nevertheless, it's worth taking into consideration!
Here are some of the most frequent interior modifications to consider while remodeling your kitchen. Of course, every home is different, and what works for one might not work for another. However, it's important to remember that even a minor change may significantly improve your kitchen!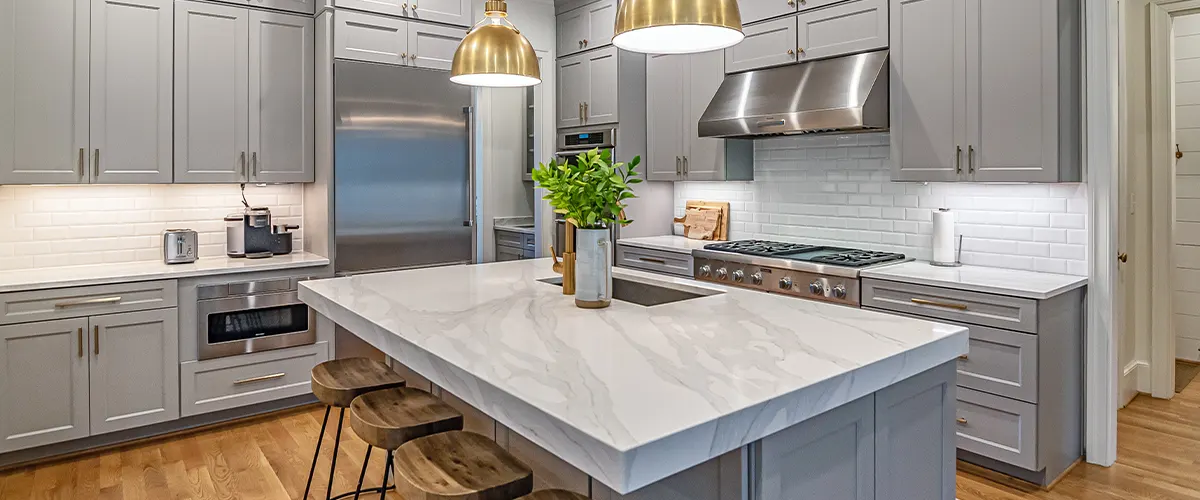 Your Top-Notch Kitchen Remodel Awaits!
Stop settling for just an ordinary kitchen and start creating the dream cooking space of your dreams! With Lakeview Home Remodels, you can rest assured that we will show you how to unlock all of your kitchen's potential. We guarantee an exceptional renovation experience so that your culinary aspirations become a reality. The choice is yours so make it happen today with us!
To make your experience worthwhile, we work hard to provide outstanding client service, high-quality craftsmanship, stress reduction, continuous help, and total transparency throughout the process. You may rely on us to be there for you every step of the way during your kitchen or master bath renovation.
It's Time to Get Your Well-Deserved Kitchen Remodeling Service
Request a free quote and let's discuss your upcoming project, whether you're looking for kitchen or bath remodeling services! Or talk directly with Nate, the owner of Lakeview Home Improvements, at (865) 801-4545 and see if we're the right fit.