Homeowners in Maryville, Tennessee who are considering a kitchen remodel should look no further than Lakeview Home Remodels. We will ensure that your project is completed to perfection and you'll have the perfect custom-made kitchen tailored specifically for what you desire! Let us transform any space into an area of beauty and style with our exquisite craftsmanship
We pride ourselves on providing homeowners with the best possible kitchen remodeling services. We know that a beautiful, well-crafted kitchen is priceless, and it's our mission to make sure everyone who works with us loves the process as much as they love their home project end result. But before you embark on your kitchen remodeling project, you need to be aware of costs so you can set up the right budget. Read on to find out more!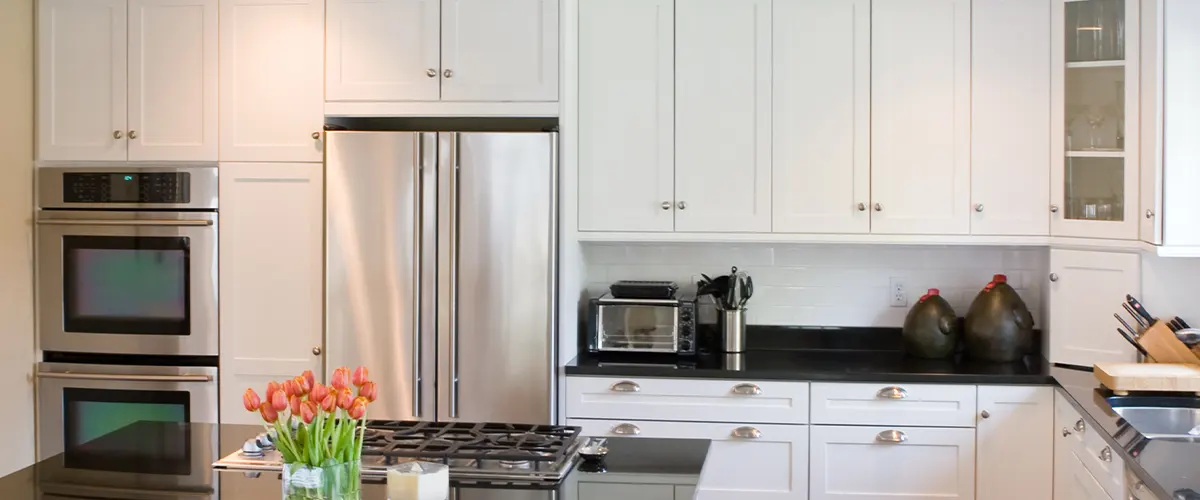 The Typical Kitchen Renovation Cost In Maryville
In Maryville, the cost of renovating your kitchen is not a fixed number. The final price tag can vary from project to project depending on the size and scope of work, as well as any special requests that you might have. One thing to keep in mind though – larger kitchens often command higher prices during renovations! Now let's examine average kitchen renovation cost estimates based on different sizes of kitchens.
| Size | Square Footage | Average Cost |
| --- | --- | --- |
| Small | Less than 70 square feet | $20,500 - $40,000 |
| Medium | Between 100 and 150 square feet | $40,500 - $70,000 |
| Large | Over 200 square feet | $70,000 - $150,000+ |
Labor In A Kitchen Renovation Cost In Maryville
Designing your perfect kitchen requires more than just aesthetic decisions; function is of utmost importance. When creating the ideal kitchen, it's critical to factor in installation, plumbing, electrical work and building along with carpentry. To ensure that all plans stay within budget, consulting various professionals for cost estimates will help prevent any hiccups down the line.
Architects are the professionals who consider safety when constructing or repurposing living spaces, and if you're considering making modifications to your home by adding or tearing down walls, then an architect's assistance is necessary. The building permit application also requires plans and drawings from this specialist. Most architects charge hourly rates ranging between $65-$250; though some may opt for a one-time fee that amounts to 10%-20% of the entire project cost.
A kitchen designer can bring both style and functionality to your cooking space. They'll create a layout that looks stunning while remaining practical, much like an architect would do. Generally, they charge 10-20% of the total cost for renovation projects; however, their consultation fee may range from $300 – $1,500+, depending on how experienced they are in this area. By investing in quality design services now, you'll ensure your money is well spent!
Kitchen water issues can be tricky, and a carpenter's lack of knowledge in this area is understandable. Handymen may have the ability to fix it, but plumbers are able to go further and address the root cause of your issue with more permanence. However, bear in mind that you will likely face hourly fees ranging from $70-$150 as well as material expenses, if you decide on a professional plumber.
When relocating your appliances, it is significant to ensure that the electrical wiring process is secure and up-to-code. For this reason, it's essential to bring in a certified electrician who can charge you between $80 and $150 per hour for their services, plus material costs. By doing so, you'll be able to guarantee peace of mind knowing that both yourself and your family members are safe!
Materials And Upgrades For Your Kitchen Remodel
A home remodeling project is common quite a large project. And with any kitchen, many things shift when you want to change its look and feel. We can show you some of the finest alternatives for your area during our on-site visit. For now, let's look at what are presently the most popular upgrades people choose.
In pursuit of achieving the best return on investment, homeowners search endlessly for proper solutions. Incorporating semi-custom cabinets is a foolproof way to guarantee success. Although paint-grade cabinets are more affordable, they don't offer the same quality or resilience that hardwood ones do.
Custom-made new cabinets provide a distinctive flair to your house. They're produced specifically for you, so you can pick whatever size, shape, and design you like and see how efficient they are at turning kitchens.
Remodeling your kitchen can be a complex process, and among the essential decisions you'll make is whether to keep or replace your appliances. If they're still functioning, there's nothing wrong with preserving them; however, some customers prefer replacing their devices with higher-end models if it fits into their budget. Ultimately though, it comes down to how much cooking you do—if not often enough, then mid-range appliance packages should suffice for now.
Although it's more expensive, many people choose to upgrade their appliances when they remodel their kitchen. In fact, we know some individuals who spend around $18000 only on new appliances! The good thing about these luxurious models is that they often make cooking quicker and easier. It all comes down to the customer's needs and preferences when choosing what sort of appliance they want in their new kitchen.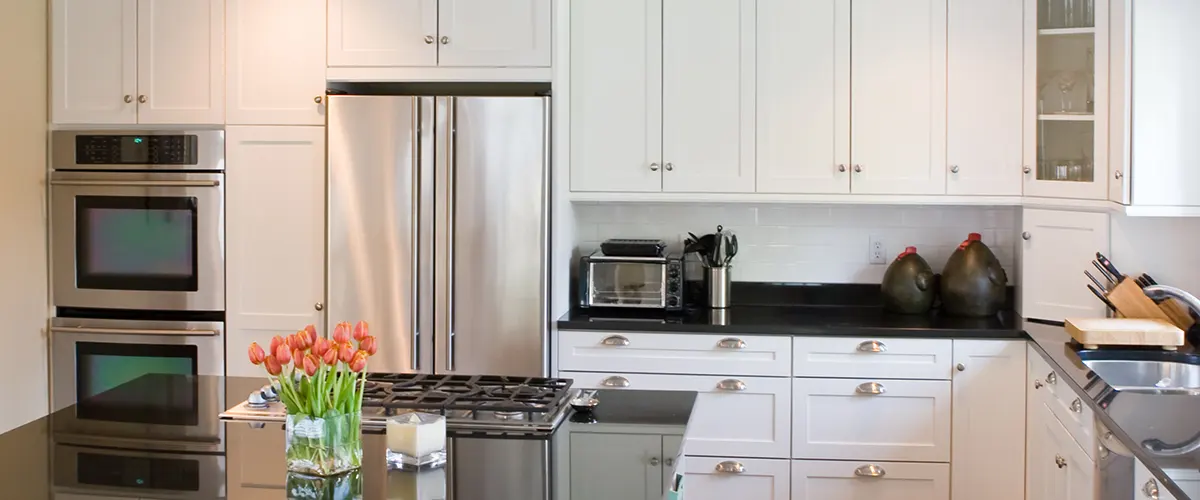 There are numerous materials to pick from when choosing countertops for your kitchen, but quartz is an ideal option. Not only is it strong and durable, but it also doesn't show chips or cracks easily. If you're looking for a material that will barely require any upkeep, go with quartz. It provides a cohesive experience in the kitchen – perfect if you regularly cook meals for a big family!
On the other side, marble has a look that no other countertop material can compare to. Nevertheless, it is more delicate than quartz and thus less cost-effective in the long run.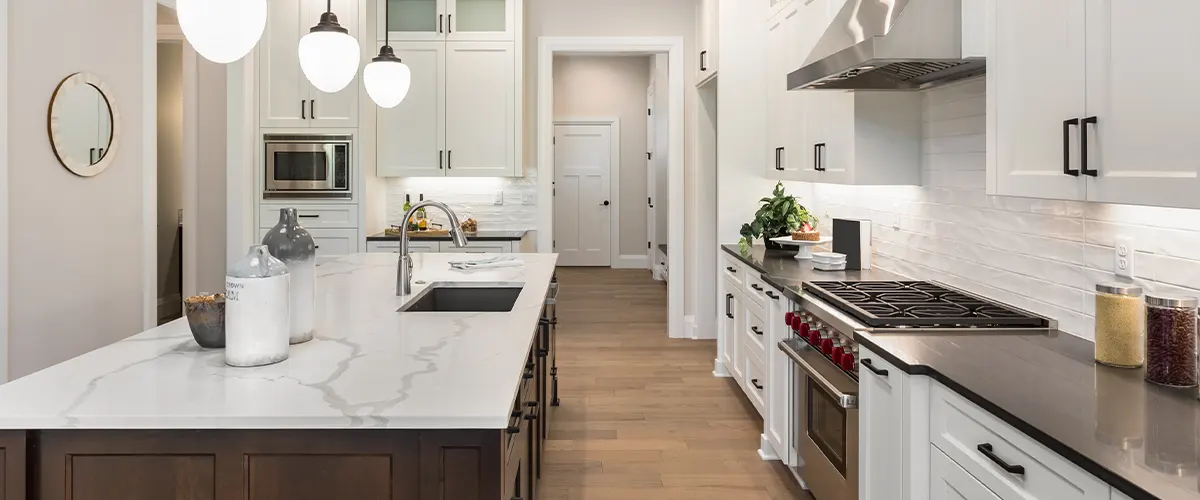 When it comes to designing a home, the kitchen is one of the most pivotal rooms. That's why homeowners should take their time in selecting an ideal flooring choice. Two classic options for kitchen floors are hardwood and tile–both possessing unique qualities that make them aesthetically pleasing. Hardwood not only looks chic, but it's also simple to maintain with regular upkeep; plus its natural warmth provides added comfortability for you and your family!
If you're looking for a tile that comes in an array of colors and styles to suit anyone's taste, then look no further. Vinyl flooring is also easy to install and maintain and can even imitate other more expensive types of floors like natural stone or wood.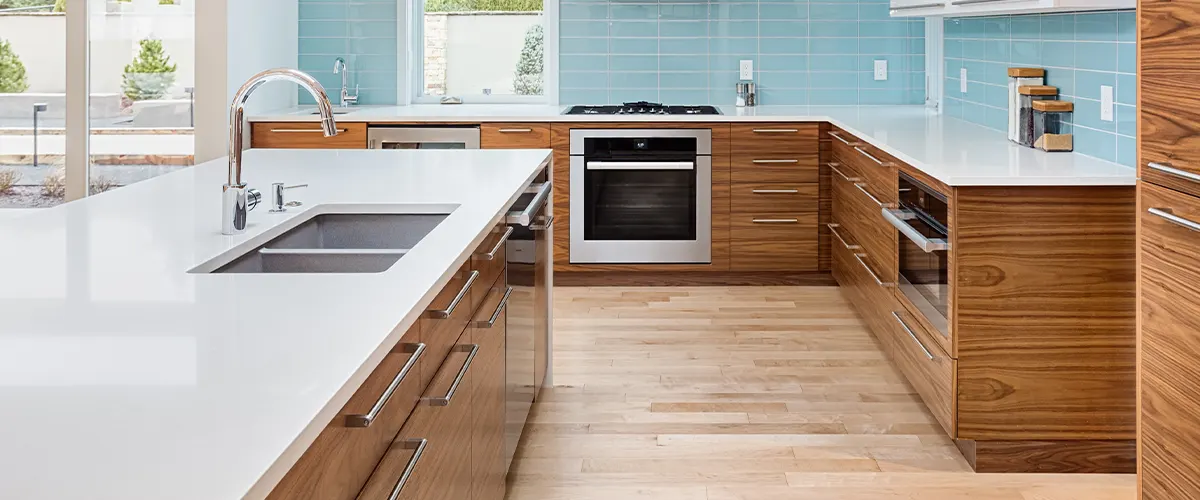 Choosing the right sink is one of the most crucial decisions you'll make when renovating your kitchen. The following are some of the most popular types of sinks found in most homes: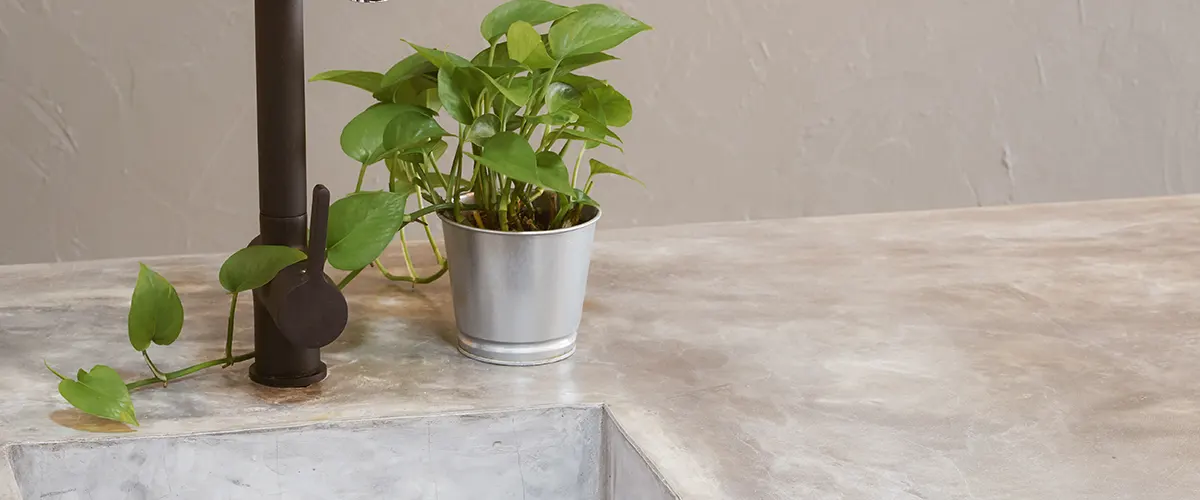 Islands are one of the most desired kitchen layout adjustments for many reasons. They provide plentiful prep space, additional storage, a cozy place to dine informally and also act as an attractive visual anchor in open-concept kitchens. Not to mention, don't forget about outlets – you'll need at least two on the island itself for small appliances such as blenders or toasters!
Have you considered revamping your kitchen by relocating the sink to the center of the space, typically below a window? While this option is certainly eye-catching and attractive, it may be costly depending on how difficult it will be to adjust your current plumbing setup.
Here are some of the most frequent interior modifications to consider while remodeling your kitchen. Of course, every home is different, and what works for one might not work for another. However, it's important to remember that even a minor change may significantly improve your kitchen!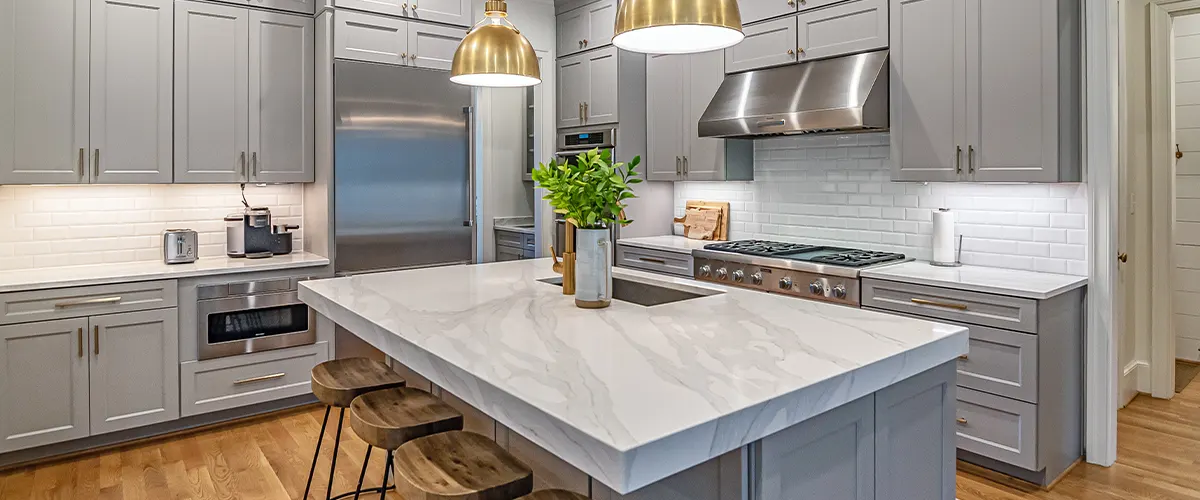 Your Top-Notch Kitchen Remodel Awaits!
The choice is yours: you can settle for a kitchen remodel, or go all out and create the ultimate cooking space of your dreams. With Lakeview Home Remodels, we guarantee an exceptional renovation experience that will make your kitchen reach its full potential.
To make your experience worthwhile, we work hard to provide outstanding client service, high-quality craftsmanship, stress reduction, continuous help, and total transparency throughout the process. You may rely on us to be there for you every step of the way during your kitchen or master bath renovation.
It's Time to Get Your Well-Deserved Kitchen Remodeling Service
Request a free quote and let's discuss your upcoming project, whether you're looking for kitchen or bath remodeling services! Or talk directly with Nate, the owner of Lakeview Home Improvements, at (865) 801-4545 and see if we're the right fit.