People usually feel better when they know how long a home improvement project's going to take. It makes it easier to plan for the best time to do it!
In this post, you can find out a usual bathroom remodel timeline. You can also discover the main reasons it can change.
Let's begin.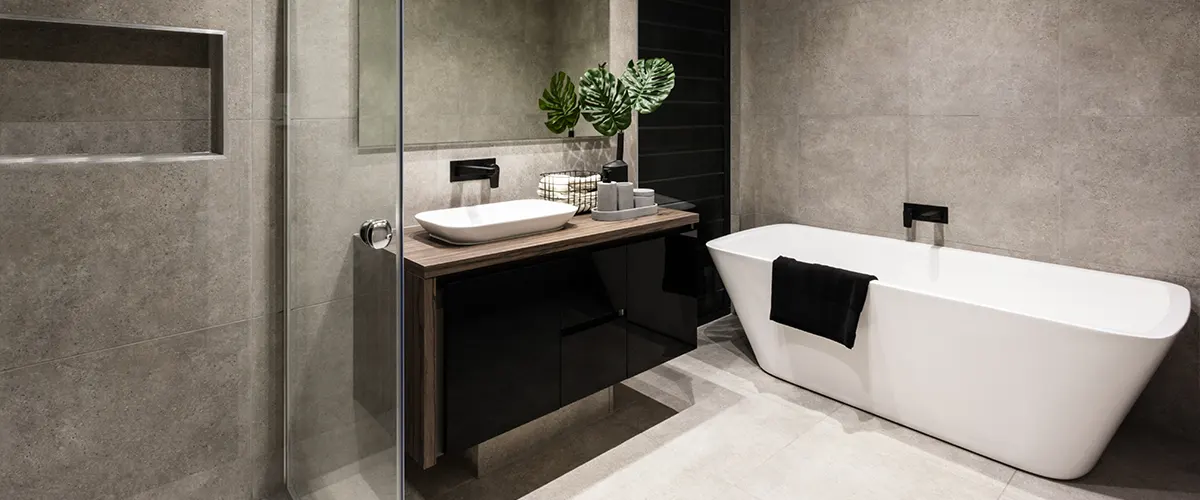 The Usual Bathroom Remodel Timeline
The usual bathroom remodel timeline is between one and two months. This includes everything from designing your bathroom to final touchups.
Your timeline mainly depends on the number of fixtures you want to remodel, bathroom size, job complexity, bathroom age, and if we find any damages.
Space preparation, demolition, and rough work (rough electrical and plumbing, minor framing if needed).
Inspections. This is the slowest phase of the project. We'll have to wait for official inspectors to come in and approve our work. 
This happens at the beginning of your project, but sometimes they require visits during the project as well. Nothing to worry about, our experts craftsmanship is up to the highest standards, and home inspectors in Knoxville, TN, know this. 
Plaster and insulation work. Your contractor will also install drywall and backer board (like drywall but for showers) and do plumbing* and leveling.
*Plumbing: Making sure walls are flat and level
Tile preparation and installation. Your contractor may recommend measuring for custom glass shower doors if it's part of your bathroom remodel design.
A tile floor takes a big chunk of the timeline, compared to a LVT floor.
*Tiling can take 1 to 2 weeks depending on the complexity
Final plumbing and electrical work. Install fixtures, lights, countertops, vanities, do trim work, finish components, and any finishing touches. 
It's best to have mirrors and accessories ready. This helps us do them all at once, saving you time and maybe even finishing the project ahead of schedule.
Painting, which depends on when your project closes up and any previous additional work and final inspections.
We'll install glass doors at the very end to avoid any costly mistakes. 
We'll have a final walkthrough where you can see exactly what changed and why. After that, we'll leave you to enjoy your amazing new bathroom!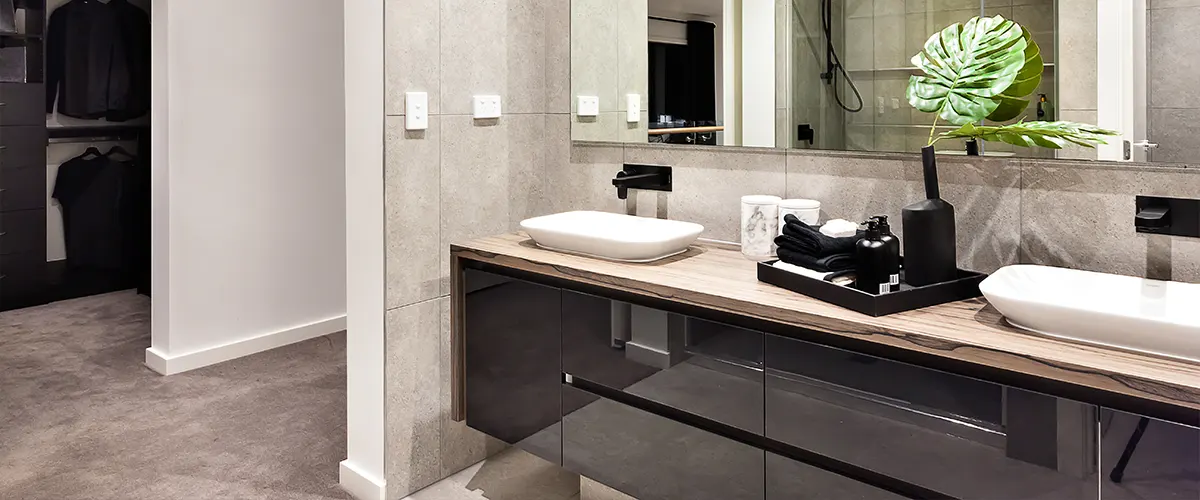 What Affects A Bathroom remodel Timeline
Bathroom renovations are amazing projects that will raise the value of your property. However, any home improvement project, including this, can be full of surprises.
No matter how much we want to finish your renovation according to our initial plan, sometimes difficulties arise and we need to adapt. And because our main priority is giving you the best bathroom you can possibly have, we're fine with spending a little more time to do it.
With that out of the way, there are several factors that can affect a timeline.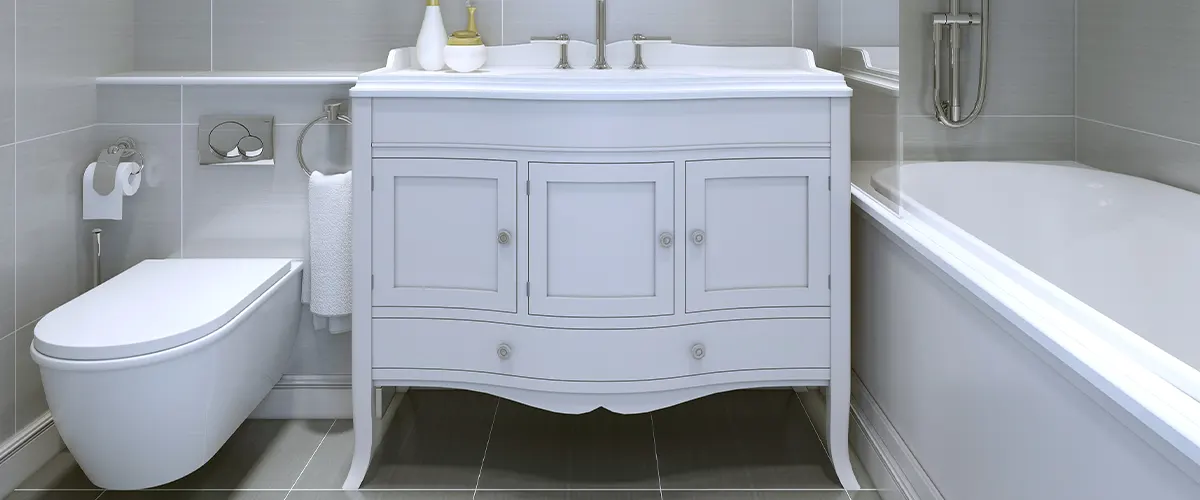 How Lakeview Home Improvements Gets It Done?
Our bathroom renovation project manager has years of experience in making the process and the production phase a smooth sailing for each of our customers.
It takes a few days for us to come up with an exact time frame for your project, and then we get to work. We recommend allocating bathroom renovations at least two months, depending on the scope of work.
In the pre construction we'll obtain permits, plan the entire project, and decide upon materials. A brand new bathroom will require anything from flooring to bathroom accessories. The building permits are a must, but the paper work shouldn't concern you – we'll do it for you.
For an existing space, we'll need to inspect it thoroughly before we decide what needs to change. This includes the existing electrical wiring, insulation inspection, water lines, and all other features that you have in your bath.
During the construction, we'll have to schedule site visits from inspectors to ensure everything goes according to plan. We'll be on site every day, according to the schedule. Your project manager will answer all your questions and will keep you on top of things at all times.
In the post construction, we'll schedule the final inspection for your bathroom makeover. After that, your bathroom renovation project is finished, and we'll be out of your hairs.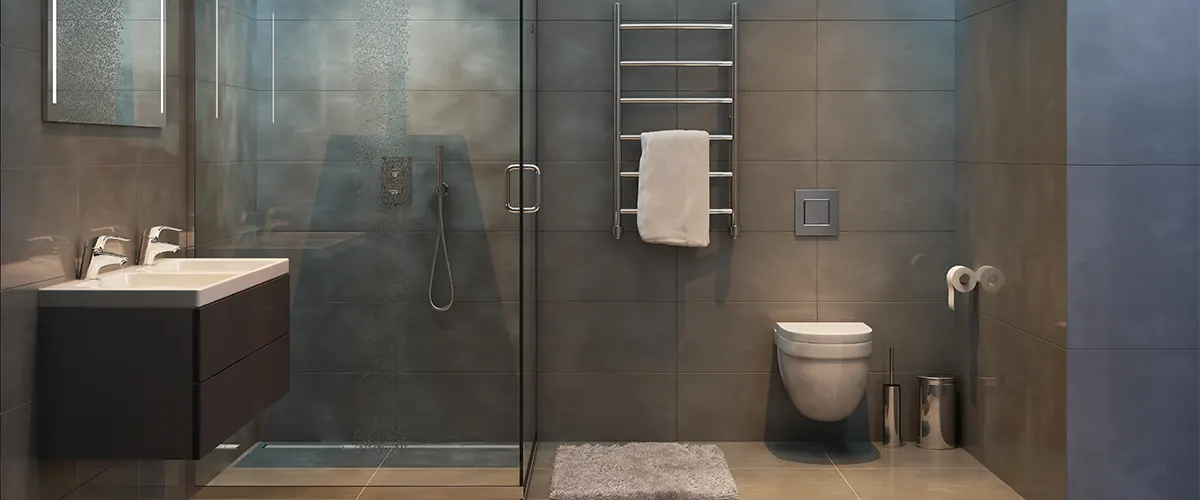 New bathrooms uplift a home and improve the quality of your life in many different ways. And while it's true that renovating can be stressful, our ultimate goal is to give you a new bath without the stress of a remodel. 
We aim to minimize the anxieties of having someone work in your home, and we'll make your journey with us a pleasant experience.
If you want to know exactly how we work and what each stage of your remodel implies, request a quote and we'll get back to you within two days.
If you want to get in touch directly, don't hesitate to call us at (865) 801-4545.