Planning a bathroom remodel but you're concerned about budgeting for it? If so, this article will give you the only guidelines you'll need for your bathroom renovation cost.
We'll cover the average prices of:
*Your bathroom remodel costs will vary depending on your state and your contractor. While prices for materials and upgrades will remain mostly similar, labor costs depend on how your contractor values his work.
With that out of the way, let's see a bathroom remodel cost breakdown.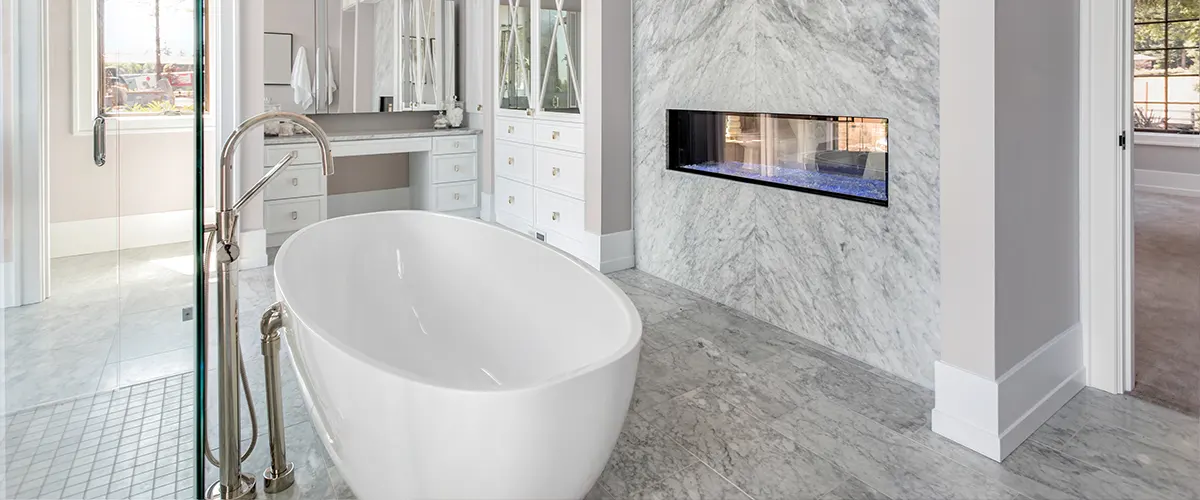 A Basic Bathroom Remodel Cost
At Lakeview Home Improvements, our basic bathroom renovation cost is around $36k.
In this price, we include updating any existing plumbing and lighting fixtures without reconfiguring their location. We add new stock vanities and countertops, and ceramic tile flooring or surround.
This would be ideal for a smaller guest bathroom or a powder room if you want to impress your visitors.
Let's see some average prices for this bathroom remodel.
You can find vanities in home improvement stores like Lowe's or Home Depot. Stock vanities can be anywhere from $100 to $500 per linear foot.
The vanity hardware can be anywhere from under $100 to $10k. Obviously, you wouldn't want such expensive hardware for stock cabinets.
Our bathroom designers can help you choose the perfect vanity hardware that will match your new space.
If your vanity will come unfinished, you'll also add the cost of painting supplies and the labor. After your cabinets are finished, add the installation cost that you agreed upon with your contractor.
Vanities often carry a hefty price tag in your bathroom renovation cost.
Countertops are easier to install and don't require hardware. Their price it's mostly a matter of material.
Marble is the most expensive countertop material, but it lacks the functionality of quartz or granite. And if you were looking to save money with a laminate counter, forget it. Laminate counters give a cheap look to your bathroom, they require careful attention, and are far from durable.
In East Tennessee, quartz prices range from $50 to more than $100 per square foot.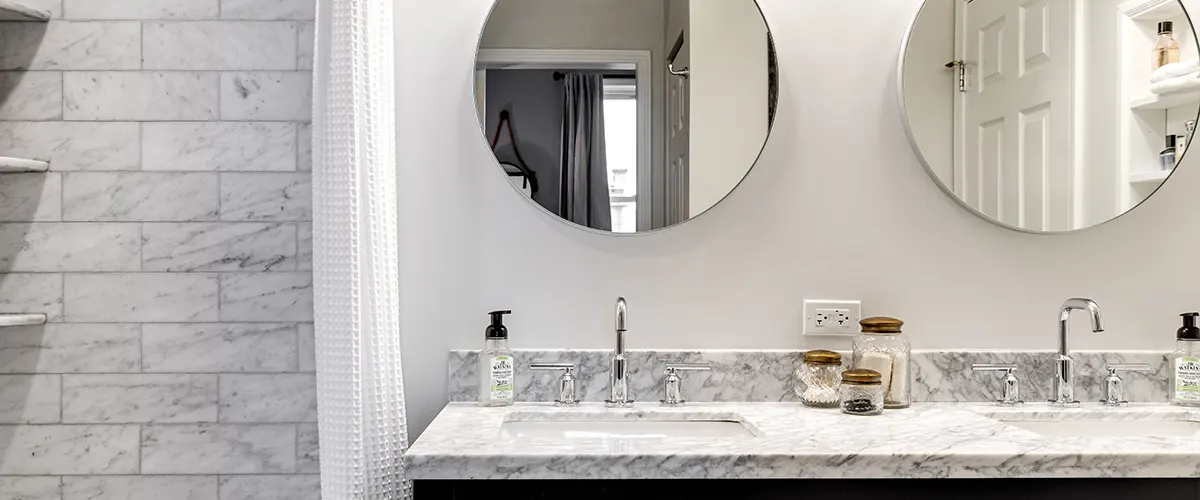 Ceramic Floor And Surround
For your bathroom floor we'll include the tile cost and the installation cost.
According to a case study from homeyou, for a 1,200 square feet space, you'll need approximately 1,282 square feet of tile. The cost of material will be around $3,265.
It took them 96 hours to complete the project, which adds another $5,588 for tile flooring labor. For other supplies and materials add another $1,168, and for tile flooring equipment allowance another $68.
| Item | Quantity | Price |
| --- | --- | --- |
| Tile Flooring Cost | 1282 Square Feet | $3,265.79 |
| Tile Flooring Labor | 96.4 Hours | $5,588.05 |
| Tile Flooring Job Materials and Supplies | 1200 Square Feet | $1,168.91 |
| Tile Flooring Equipment Allowance | - | $68.03 |
| Totals - Cost to Install Tile Flooring - 1282 Square Feet | - | $10,090.78 |
| Average Cost Per Square Foot | - | $8.41 |
The final cost: $10,090 for a 1282 square feet space, from which we can determine that the average cost per square foot to install ceramic tile flooring is around $8.40.
The cost of your new lighting fixtures depend on their material and style, and the installation cost depends on your contractor.
According to Angi, it typically costs between $151 and $894 to install a light fixture, but the cost can reach as high as $2,500 or go as low as $75, depending on your choice of materials and the labor cost.
We'll help you through the material selection process so make an informed decision about your bathroom lighting.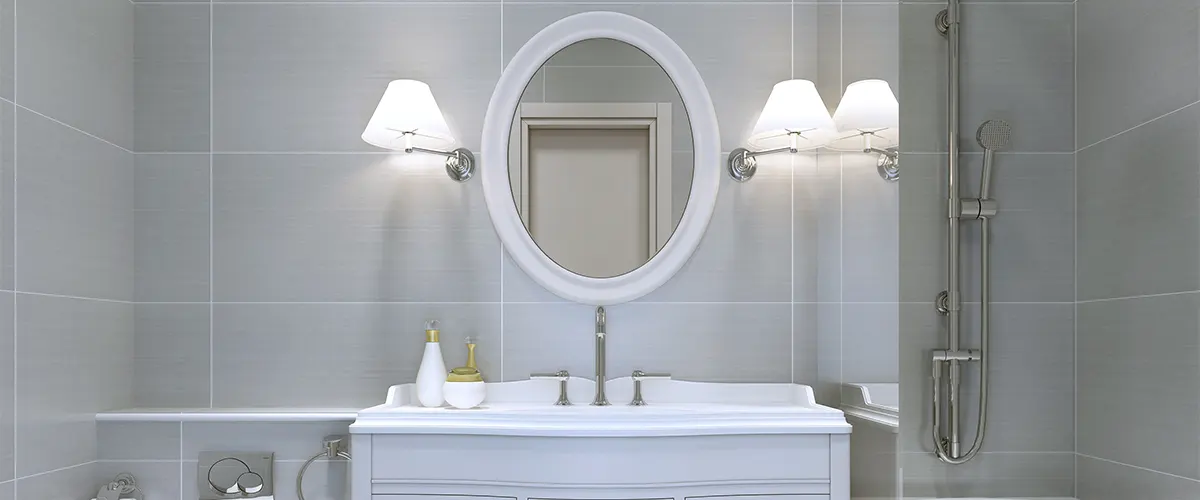 An Average Bathroom Renovation Cost
We quote many of our bathroom remodels at around $64k.
They include:
An average bathroom remodel is ideal for a large guest bathroom, but also for a master bathroom, depending on their size.
Let's look at some upgrades.
A Tub To Shower Conversion
Shower conversions are popular upgrades that many of our customers get for their new bathrooms. They're more functional, affordable, and require less maintenance.
The average cost of glass shower doors is between $1,200 and $1,800. The low-end is $500 and the high-end door will be as expensive as $4,000 or more.
But you don't need a $4k shower door unless you're looking to recreate a Carlton Ritz hotel. Check out this example from drivenbydecor.
Here's what they say:
Porcelain tiles are better than ceramic, but also a bit more expensive. There are also many sizes, patterns, and styles available, which make a wide range of installation costs.
Let's look at some averages according to Fixr.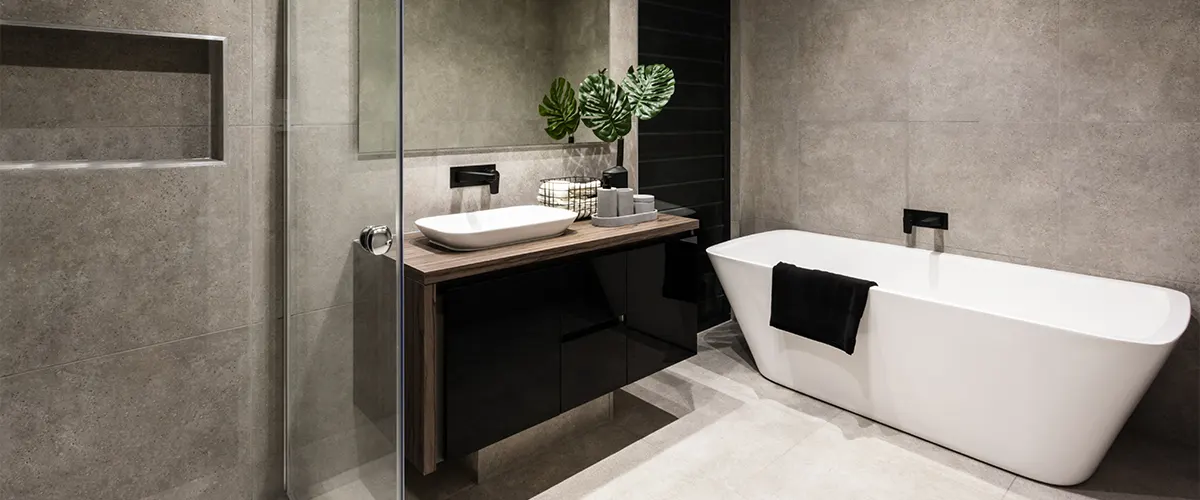 | | |
| --- | --- |
| National average cost | $3,000 |
| Average range | $2,000 - $4,400 |
| Minimum cost | $500 |
| Maximum cost | $7,000 |
For a 200 square foot bathroom with metallic-glazed 24″ porcelain tiles laid in an offset pattern, the total cost was $7k.
A semi-custom double vanity and a quartz countertop are the best options you can make for your bathroom.
The reasoning is simple.
A High-End Bathroom Remodel Cost
Our high-end bathroom renovation cost is about $82k.
They include:
This is a complete bathroom remodel, perfect for a main bathroom if you're looking to uplift its comfort and functionality.
Let's see how your bath could turn out with a high-end remodel.
Our "Old World England" Themed Bathroom Renovation
This master bathroom remodel was one of our favorite projects to work on. We invested a lot of time to ensure our customer was thrilled with the end-product.
We updated the shower, the tub, the vanity, and everything else to make this space flow and be comfortable.
Check out the video below to form a better idea of what you could get for your own home!
Bathroom renovations are incredible upgrades that make your bath truly yours.
But determining your bathroom renovation cost without having an expert check out your space is a daunting task. There may be underlying issues in your bath, or you may want something different that fits your exact needs.
The best way to find your bathroom renovation cost is to request a free quote. 
Fill out this form (it takes 2 minutes) and we'll contact you within two days to offer you a cost estimate.
This is the best way to fully comprehend the scope of work and what you truly need in your bathroom.
If you want to talk directly with our experts, contact us at (865) 801-4545 and let's get started on your new bath!