Countertops can be a focal point in bathrooms, but they can also be the subtle touch that ties everything together to create a cozy and comfortable vibe.
If the counter you had before wasn't 100% functional (got stained easily, cracked, chipped, etc.), now you want to upgrade it to something much more efficient.
In this blog, you'll discover what are the best 5 countertops for bathrooms, but also the counters you want to avoid.
Let's begin.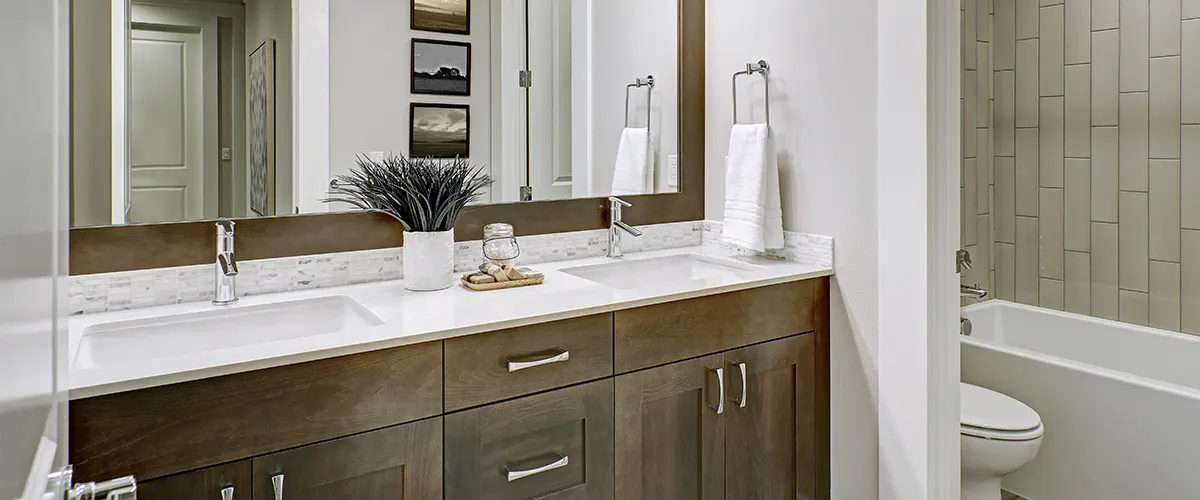 The best countertops for bathrooms is undoubtedly the quartz countertop.
Quartz is a manufactured material that has many of the natural stone properties without some downsides.
One of the main reasons homeowners choose this material is because quartz doesn't have a porous surface like other materials. This ensures a smooth surface, very easy to maintain and clean.
Another reason quartz is gaining popularity is because this material can have a consistent appearance, without all the changes of patterns you see in natural stone bathroom countertops.
Quartz is a great counter material for many reasons:
Price Of Quartz Countertops
| Quality | Price Per Square Foot |
| --- | --- |
| Low-end | $55 to $65 |
| Medium | $65 to $75 |
| High-end | $75 to $200 |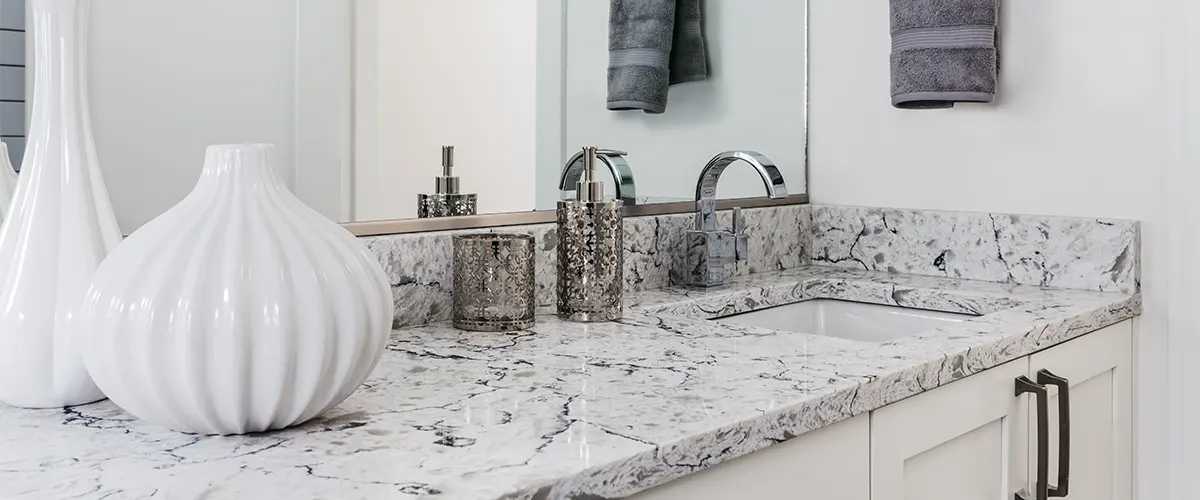 Granite countertops for bathrooms remain one of the most popular countertop materials out there, which is why it's our second choice.
When so many homeowners still want granite counters in their homes, you can imagine the resale value of granite counters is higher than most other materials.
Granite is a natural stone that can come in various looks and finishes to create the perfect vibe for your new bathroom.
This material, however, has some disadvantages typical to natural stones. It has a porous surface, so it's prone to water damage. It can absorb water and build up bacteria and mildew. And to maintain it, you'll need a special cleaner that helps you avoid damaging the stone.
Another downside of granite countertops for bathrooms is the price it comes with.
Price Of Granite Countertops
| Type Of Granite | Price Per Square Foot |
| --- | --- |
| Alaska | $40 |
| Ubatuba | $60 |
| Silver Cloud | $55 |
| Absolute Black | $40 |
| Black Galaxy | $70 |
| Solarius | $60 |
| Crema Bordeaux | $80 |
| Blue Louise | $100 |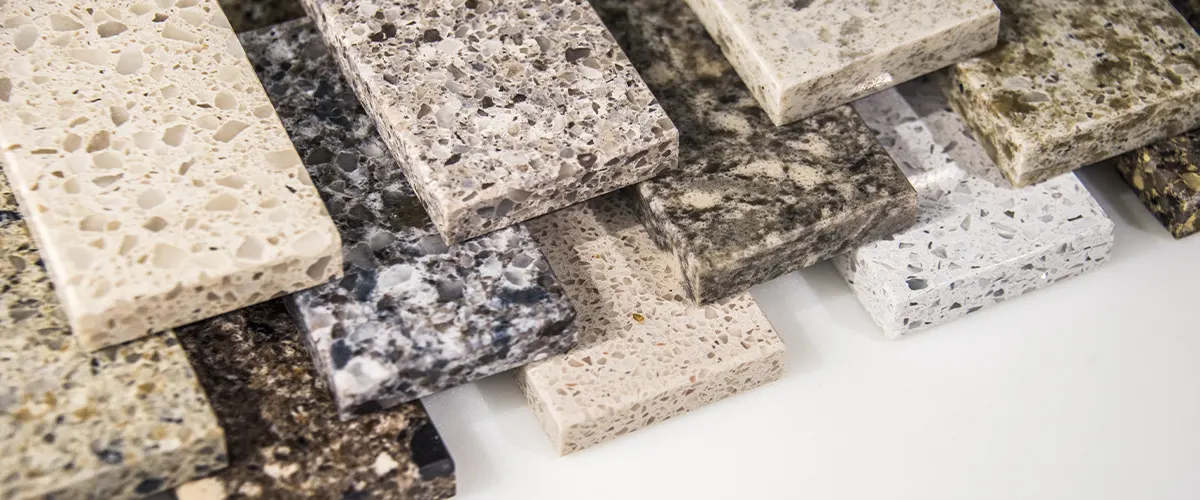 Natural stone is a popular counter material mostly because of the vibe it gives to your space. It's true that natural stones are more expensive than other options, but they're worth it for a half bathroom or a powder room.
Quartzite is a unique bathroom countertop due to its distinct veining and colors. It's a durable material and harder than other stones, like granite. It's more resistant to stains, chips, cracks, and can withstand heat.
However, quartzite requires more maintenance than other bathroom countertop options, like regular sealing and cleaning.
Marble is a natural stone that'll offer a unique and elegant vibe in your new bathroom. Each slab of marble is different, which makes a marble countertop stand out.
Marble countertops are not as resistant and durable than other options. They can stain if not sealed regularly, and they can easily be damaged and chipped. This natural stone has a porous surface, making it susceptible to water damage, bacteria, and mildew.
Because of this, marble is great for bathrooms with little traffic, like a half bathroom or a powder room. Besides, marble is a much more expensive material than most other options.
Price Of Marble Countertop
| Type Of Marble | Price Per Square Foot |
| --- | --- |
| Bianco Carrara | $40 - $60 |
| Botticino | $40 - $60 |
| Bardiglio | $50 - $70 |
| Danby (Vermont) | $60 - $80 |
| Bianco Statuario | $60 - $80 |
| Emperador Light | $70 - $90 |
| Nero Marquina | $70 - $90 |
| Bianco Venatino | $80 - $100 |
| Calacatta | $180 - $200 |
| Breccia Oniciata | $180 - $200 |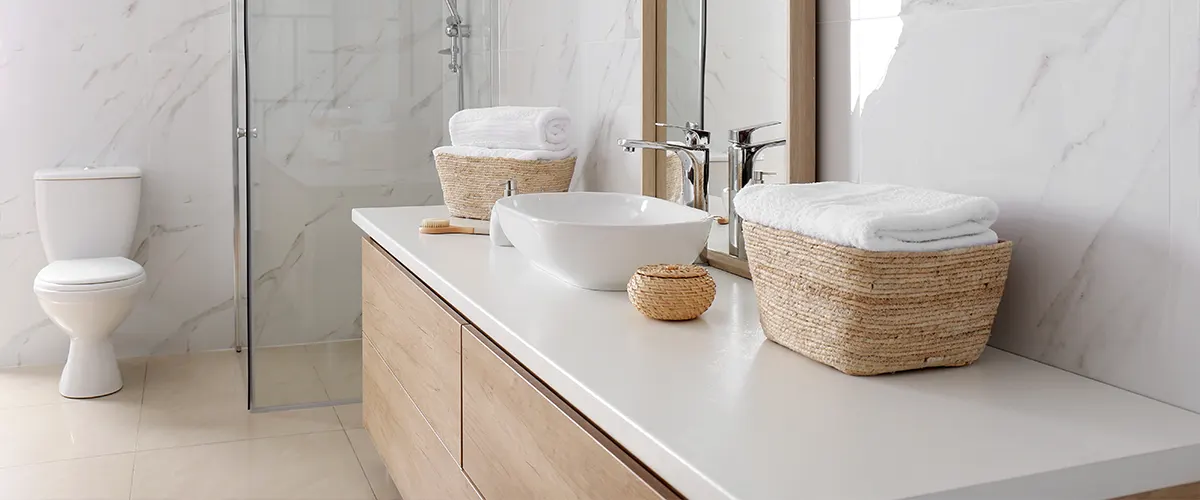 When it comes to countertops for bathrooms on a budget, laminate is a great option. Besides being affordable, you can even install it yourself to save extra money. This material is easy to maintain and it even has a lot of design options to choose from.
Laminate countertops for bathrooms are far from being the best option simply because it's a material made of wood in a room with a lot of humidity and water. And while cleaning and maintaining it is simple, laminate is not as resistant and durable than other materials.
You can repair, refinish, and even redo a laminate counter, but you don't want to keep spending money on something that could have been done once. Laminate is a short-term investment that's bound to fail after several years, especially in a bathroom with a lot of traffic.
Keep in mind that you'll want solid surface materials as countertops, especially in a bathroom, and laminate bathroom countertops are not as solid as quartz or granite.
For laminate, these four brands are known as the top players in the industry. Below are the average prices for their materials only.
| Laminate Brand Name | Price Per Square Foot |
| --- | --- |
| Arborite | $10 - $30 |
| Pionite | $10 - $30 |
| Formica | $15 - $40 |
| Wilsonart | $18 - $40 |
Cultured marble makes excellent countertops for bathrooms.
It's a material composed of marble dust and resins that is both durable and attractive. There are an infinite number of color and design combinations to play with.
Because the counters are molded, any form or size is feasible, including a sink integrated into the design. The surface is nonporous, stain resistant, and has no grout lines.
Cultured marble is more affordable than marble, but still more expensive than most other options.
Our Take On The Best Countertops For Bathrooms
At Lakeview Home Improvements, we recommend all of our customers a good quartz countertop. Quartz is by far the best option for master bathrooms, as they can offer a great deal of comfort and functionality to your new space.
It's affordable, good-looking, and has a great resale value if you'll ever plan to sell your property.
Quartz is one of the materials that you can't go wrong with. It works in master bathrooms that get a lot of traffic, in powder rooms that require a unique and comfortable vibe, and in half bathrooms where you'll only need a small slab of quartz.
Quartz bathroom countertops and solid surface countertops in general work great in bathrooms. Concrete countertops are also growing in popularity, but their installation is more difficult. Ceramic and porcelain tiles for bathrooms could work, but they fail to bring the elegant look you'd want in your space.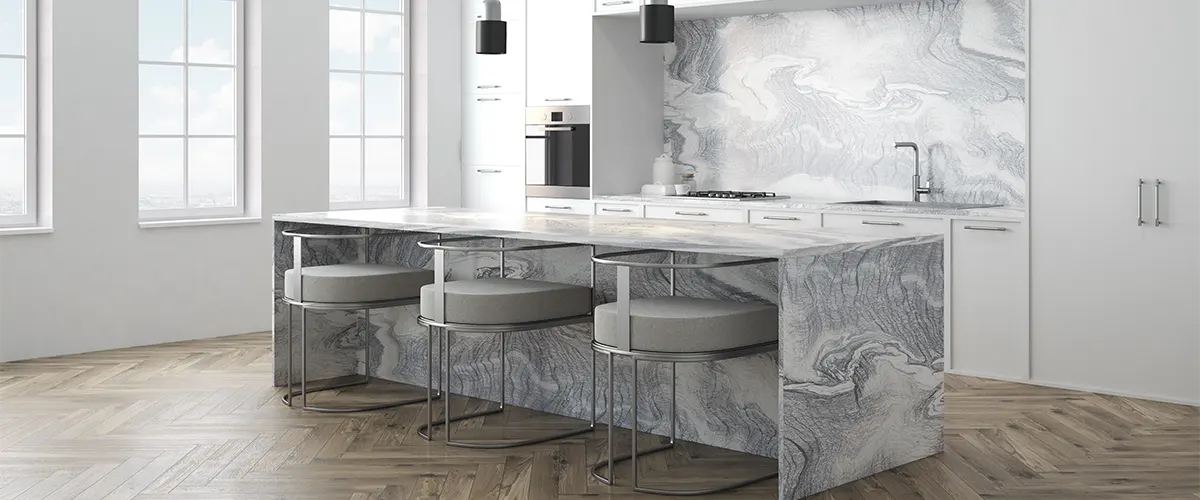 Choosing the best countertops for bathrooms is not an easy task. Especially when you have to consider your needs, budget, and the vibe you want in your bath.
As guidelines, choose:
If you're still not sure about your countertop material, give us a call at (865) 801-4545 and get our insights on your particular situation. If you want a call-back within a couple of days, request a free quote right now! 
We'll find the best countertop for your bathroom together!