Laundry rooms become the main victim of dirty clothes, mud, or other things you just don't know where to put.
This utility room is also one of the most frequented rooms in your home, and when entering it feels like a nightmare and getting out feels like a maze, you need to take action.
Let's find out what are the best features to have in this space, and how will your laundry room renovation go.
Read on!
Plan Your Laundry Room Renovation Layout
Before you make any permanent changes, you need to visualize how you'd want your laundry room to look.
There are several things to consider here.
Consider Your Storage Space
It's a laundry room, so you'll definitely need more storage than in other rooms around your home.
Most laundry rooms also have a laundry closet, but this requires extra square footage, and so it's not always a viable option. For a laundry room renovation, many of the homeowners we work with choose a combination of cabinets and open shelves.
New cabinets offer great functionality, keeping sheets and other things hidden from sight when you don't need them, while open shelves offer great accessibility for things you use every day.
Let's look at some storage options.
Cabinets can be stock, semi-custom, or fully custom cabinets. Semi-custom brings the most ROI and you have the possibility to change its dimensions and finishes. You can find them in home improvement stores like Lowe's or Home Depot, just like stock cabinets.
It's worth noting that stock and semi-custom wall cabinets come in smaller depths than base cabinets.
If you need a bigger wall cabinet, you'll have to go for a custom cabinet.
Wall cabinets are less likely to see spills, are out of your way, and they'll last for a long time.
Base cabinets are sturdier and larger, providing a better storage space in a room where it's needed.
If you want a dedicated space that will serve as a folding station, you'll need base cabinets to have a strong support for the countertop. We can't stress enough how important the counter space in a laundry room is.
However, base cabinets are more prone to water spills, which are common in laundry rooms.
Open shelves are a great feature to have in many rooms. They provide an increased accessibility and can make your life so much easier.
They're affordable and you can get them from home improvement stores. If you want something more unique, with decorative elements, you'll want to look for custom made shelves.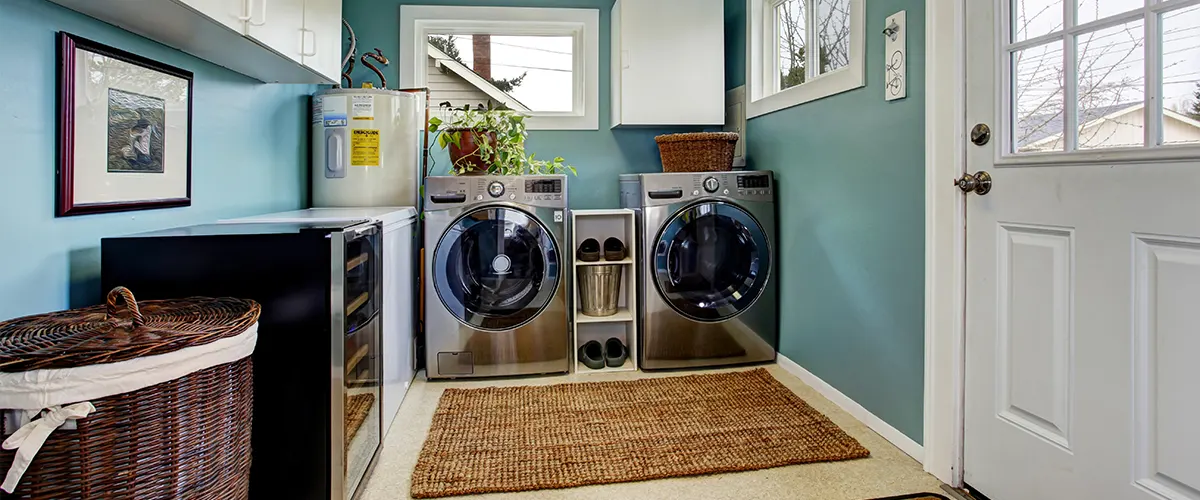 Your Laundry Room Renovation Budget
According to Fixr, the average laundry room renovation cost is around $6,000. The low-end is $800, and the higher-end is $12,000.
Note that this would be a small space of around 35 square foot with mid-range upper and lower cabinets, laminate countertops, and new appliances.
Let's look at some average prices for different features that'll go in your laundry room.
| Type Of Upgrade | Price Per Square Foot |
| --- | --- |
| Vinyl flooring | $2 - $8 |
| Quart of paint | $5 - $10 |
| Stock vs. custom cabinets | $100 - $280 vs. $2,000 - $4,500 |
| Laminate countertops vs. granite or quartz | $50 - $500 vs. $600 - $1,000 |
| Washer and dryer | $1,000 - $4,000 |
| Undermount vs. utility sink | $100 - $1,000 |
These are just materials and appliances, you'll also have to pay for the actual work. These are the plumbers, electricians, designers, and so on. Let's look at some average rates for hiring these experts.
| Professional | Price |
| --- | --- |
| Plumber | $45 - $150 /hour |
| Electrician | $65 - $85 /hour |
| Carpenter | $70 /hour |
| Painter | $50 /hour |
| Flooring installer | $5 - $10 /square foot |
Other Laundry Room Renovation Upgrades
Your laundry room should be limited to just cabinets, appliances, and a sink.
There are many other features that improve the efficiency of this space, so it's worth considering them if you're looking for a laundry room that works at 100% capacity.
Let's see some viable upgrades that can make the difference.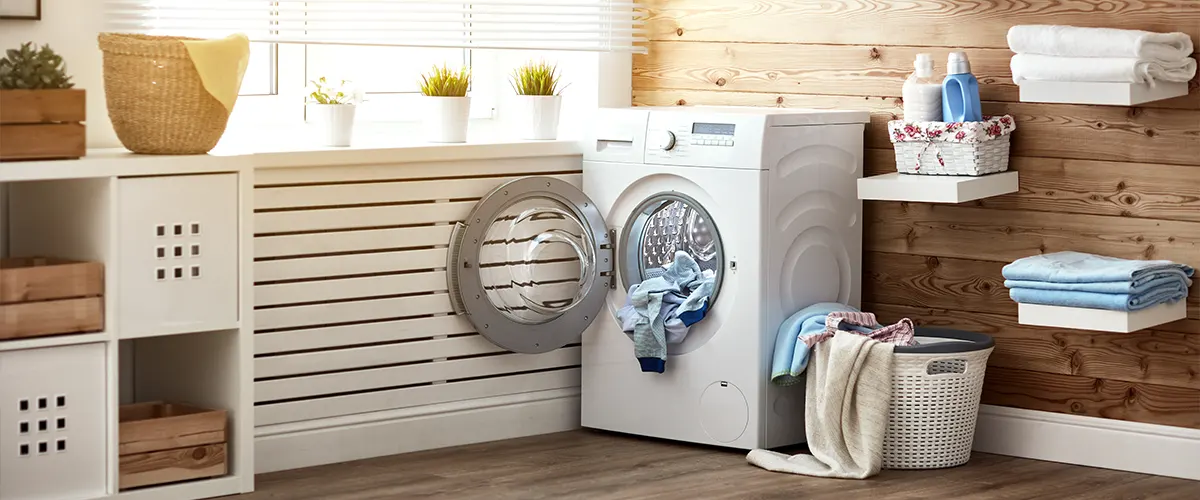 Can A Laundry Room Renovation Be A DIY Project?
Yes and no. It all depends on the type of work you need to do.
For example, if you want to undertake a full laundry room remodel, complete with new flooring, cabinets, plumbing, and lighting, doing it yourself can turn into a never-ending nightmare.
Sure, if you happen to have experience in all these types of work, you can try and knock it out of the park.
But if you'd rather not take any chances, letting a professional transform your laundry room is a much better call.
Let Lakeview Home Improvements Help With Your Laundry Room Renovation

Lakeview Home Improvements is the go-to for many homeowners in East Tennessee and Knoxville when it comes to home improvement projects. We started our journey in 2019 and we bring with us years of experience in remodeling and project management.
For your convenience, we developed a quick and simple process to start your project. A process where you and your family are at the front and center of our work.
Our final goal is to make remodeling a pleasant journey where you can enjoy your new laundry room without all the stress and anxieties that contractors used to bring.
You'll get our full transparency when it comes to pricing and timeline, and we'll make clear and open communication a priority. These ensure you'll get the best laundry room renovation in the easiest way possible.
If you're looking to find more details about your upcoming laundry room renovation, don't hesitate to get in touch with us.
We're a leader in remodeling in Knoxville and East Tennessee.
Ready to make the big step? Call us today at (865) 801-4545 or request a quote and we'll get back to you ASAP.