Whether you plan to change only some kitchen parts or remodel your entire cooking space, you can consider some beautiful and simple shelving ideas for kitchen. Find inspiration below on how to use shelving to enjoy a cozy and stylish kitchen that makes you feel at home while cooking or having family and friends around for dinner.
Lakeview Home Remodels is the best choice for kitchen remodeling in Oak Ridge, Tennessee. Our goal is to provide our customers with the best possible experience. In addition to ensuring your project is done right, we'll make sure your kitchen looks excellent. We promise to deliver only the highest quality home remodeling services.
At Lakeview Home Remodels, we're confident you will find the ideas below helpful, and they will make your kitchen look better and more valuable.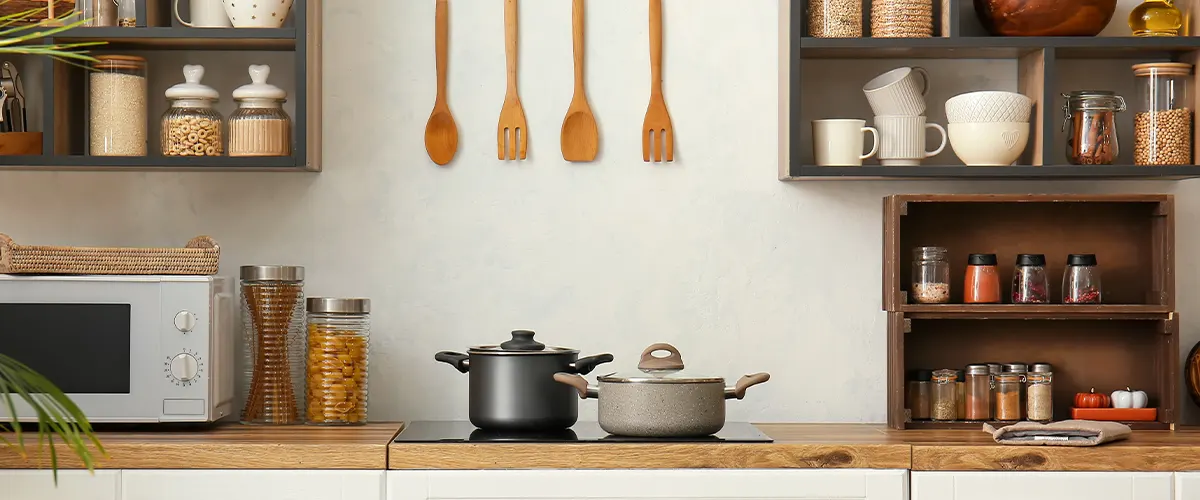 Mix Items In Decorative Shelving
Decorative shelving ideas and solutions can improve your kitchen's appearance and feel. In a kitchen with a lot of closed cabinetry along the walls, simple floating shelves with decorative and functional items look exceptionally well.
You can mix the display of wooden crockery with ceramic plates, wooden cutting boards, and a sculpted vase next to pots of beautiful flowers. This will improve the overall look of the space and make it easier to access all the necessary items while cooking.
Use Open Shelving Instead Of Kitchen Cabinets
Adding a few open shelves instead of upper cabinets is a cost-effective and easy-to-implement idea to update your kitchen space. Whether you're budgeting for a full-scale remodel or want a minor update, this idea will help you use the areas in your kitchen at their best and easily access crockery and utensils.
More than that, this will give the entire wall space an airy feeling and make your kitchen look bigger, especially if you have a small cooking space.
Place Some Shelves Against Colorful Walls
According to NKBA, vibrant colors in home design is one of the trends of 2023. Adding a splash of color on your walls is just what a space needs to take it to the next level. Place some open shelves against colorful tiles if you want a cheerful vibe. This will make your entire kitchen look better and make you feel happier while cooking your favorite dishes.
Whether you use ceramic tiles or water-resistant paint on your walls, choose a color scheme that inspires you and gives you a cozy feeling. For example, you can use complementary colors: mix olive green tiles with a few fuchsia vases.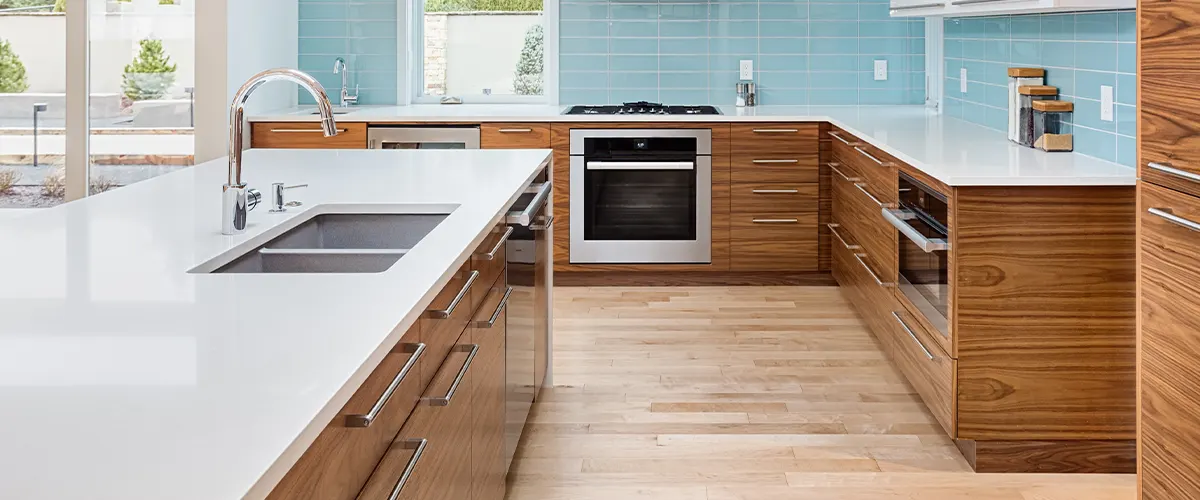 Use Wooden Shelving For A Rustic Look
Only because you have a modern kitchen or have decided to go with a more contemporary style doesn't mean you should steer clear of rustic shelves. In fact, quite the contrary. Adding wooden shelves to a modern interior can enable you to create a room that stands out.
Also, modern shelving may look out of place for a country-style kitchen. Why not have a shelf built from reclaimed wood to add instant character and provide the perfect ledge for your rustic bowls and utensils?
You can also match wooden shelves with some countertops in the same colors for an overall beautiful look to your kitchen.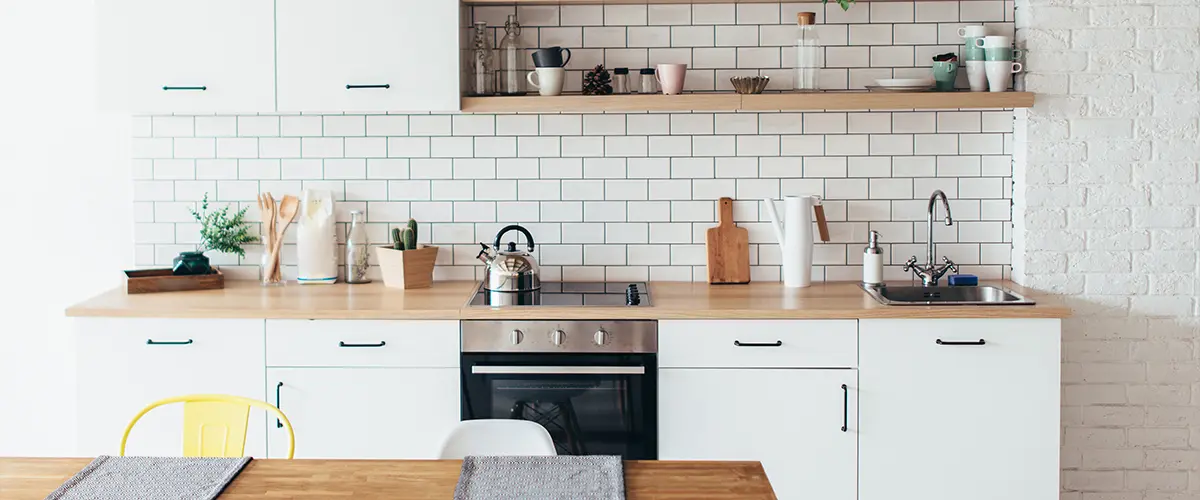 Corners in kitchens should never be ignored. They provide a sneaky space for storage and are a great place to display cookbooks, enamel pottery, and copper accents. Use even the slimmest margins by installing shelves that fit snugly between two walls, allowing you to connect areas together.
Open corner shelves are less expensive than cabinets and provide surfaces for creating attractive displays. Wall shelves can drastically alter the mood of a room's interior design. Kitchen designs with wall shelves feel friendly, light, and inviting.
Wooden, metal, or glass shelves add texture to modern kitchen designs. At the same time, versatile and modern open-corner shelves are inexpensive ways to change the look. Interiors with wall shelves displaying decorative accessories or storing functional items appear finished, casual, and modern.
Fit Shelving In A Recess Or Alcove
Alcoves, especially on each side of fireplaces, can often be awkward spaces to use effectively. One solution is to fit shelves into them – you can fit shelves from floor to ceiling or just above a piece of furniture positioned in the alcove – making your shelves means you can fit whatever suits your needs.
You can add some beautiful ceramics, cooking books, and flowers to these shelves. Consider adding neutral tones of color on the back of the pantry to make your kitchen look cozier.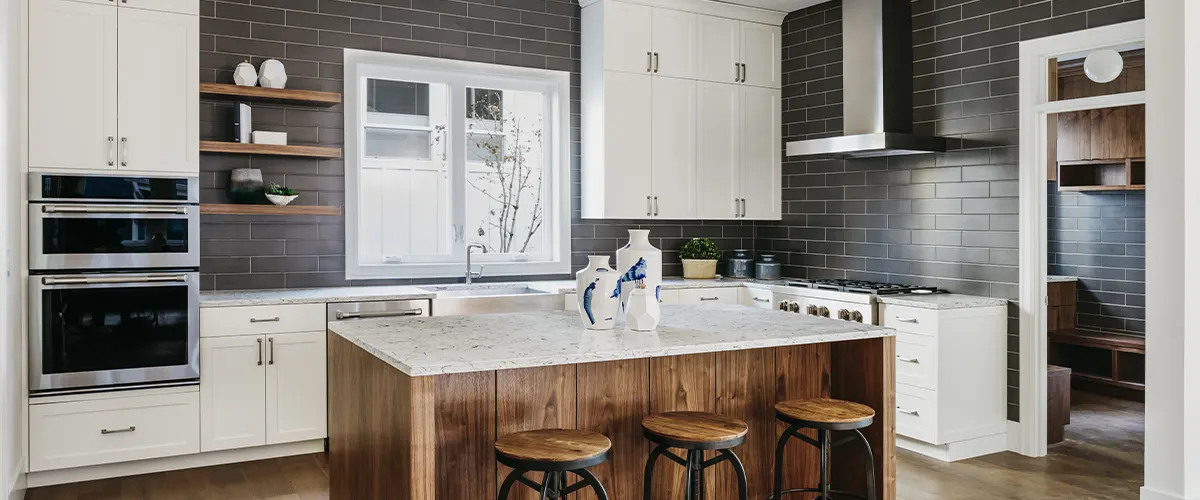 Turn Shelf Space Into An Open Pantry
You can turn your shelf space into an open pantry if you want to display space. This will not only make your kitchen look better overall but also will also make you quickly access spices, cutlery, and crockery.
If you want to keep it neat, incorporate a tone-on-tone scheme in your pantry by opting for containers and dishware in the same shades as your pantry cabinet. Or, if you like to stand out, opt for colors in complementary tones.
Add Open Shelving Above the Sink
Sometimes, above the kitchen sink, there might be more space where you can display useful and decorative items. Consider incorporating some open shelves there to use that space better.
Many assume that when they incorporate open shelving into their kitchen, they must add many shelves. This isn't always the case. A couple of smaller counters that take up one cabinet's space above the sink will significantly impact the space.
This idea works well if you want the look of open shelving but have less space on your kitchen walls. You can add smaller shelves with different items in the area above your kitchen sink.
Display Stylish Glass Jars And Ceramics
Not everything needs to be hidden away when it comes to storage. In fact, decorative kitchen storage ideas and solutions can make a massive difference to your kitchen's look and feel.
For example, you can display some simple glass bottles and ceramics, with cereals and fruits, to easily access them. Mingle them with some decorative items, such as ceramic plates and cups.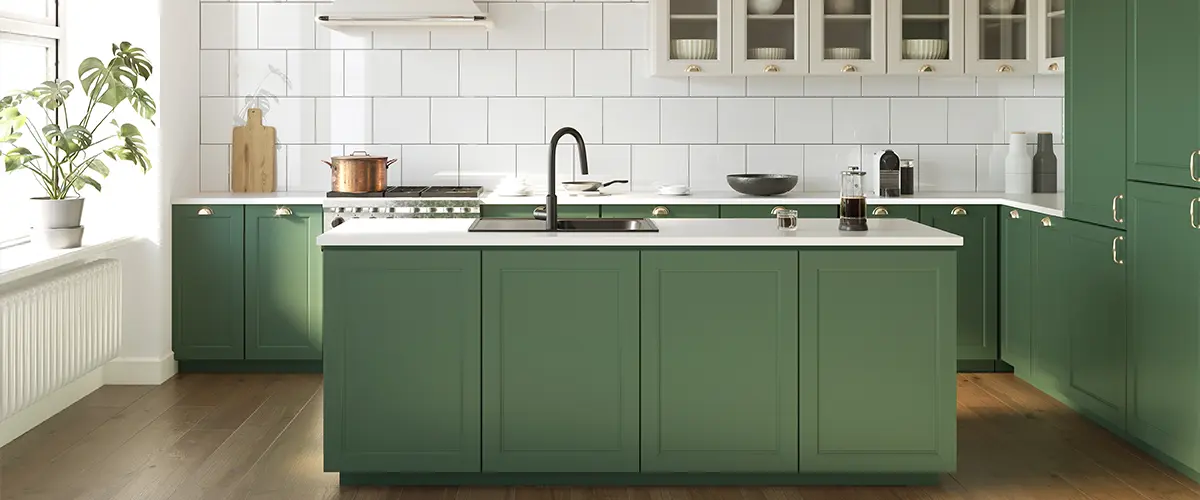 When you plan to remodel your kitchen, consider the kitchen shelving ideas above for you to enjoy the kitchen you love using every single day. We know that, although kitchen remodeling can be a rewarding task, it can also come with a few challenges.
If you need help with anything from appliance selection, budgeting and ensuring everything about your kitchen remodel is up to code, don't hesitate to contact us. We're always happy to help make your dream kitchen a reality. Call us at (865) 801-4545, and let's talk about what you want your kitchen to be.